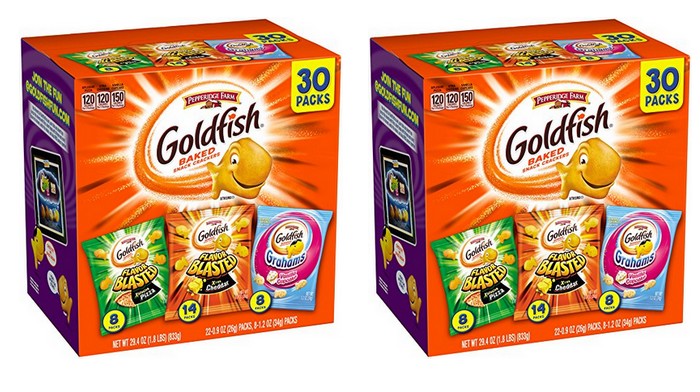 AMAZON DEALS
I am definitely an Amazon Junkie, are any of you? Many people don't realize how many items you can purchase off of Amazon.com. You can order food, hygienic products, paper products, clothing, games, and so much more.
Many times the deals you can snag off Amazon.com are cheaper than in the store when using coupons. The best part is it delivered to your door. Yes, our UPS man knows us personally now and always asks what deals we are snagging LOL :-)
Hurry and head over to Amazon.com where you can snag the Pepperidge Farm Goldfish Variety Pack Bold Mix, (Box of 30 bags) ONLY $9.48. This is an add-on items so you will receive FREE shipping. That's like paying ONLY $0.32/bag!!
About the Product
14 pouches of 0.9oz Goldish Xtra Cheddar

8 pouches of 0.9oz Goldish Xplosive Pizza

8 pouches of 1.2oz Goldfish Grahams Vanilla Cupcake

Baked with real cheddar cheese (Xtra Cheddar & Xplosive Pizza)Baked with Whole Grain (Vanilla Cupcake)

No Artificial Flavors or Preservatives
You may also like this Amazon deal:
Snag the Utz Cheese Balls Barrel, 23 Ounce ONLY $4.91!! Please note this is an add-on item.
About the Product
Utz Cheese Balls, 23 oz Barrel

Gluten Free, Trans Fat Free

Produced in the U.S.A.

Made with Real Cheese


This post may contain affiliate links. Read my complete
Disclosure Policy Here