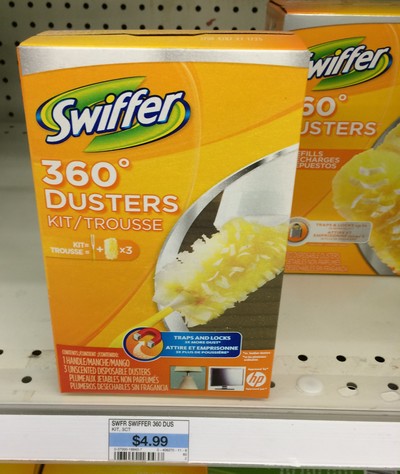 KMART DOUBLE COUPONS EVENT
As most of you know Kmart will be doubling coupons thru 9/5. That means any coupon up to $2 will be doubled, so a $2 will become $4, etc. Any coupon more than $2 will be taken at face value. They limit you to doubling of 5 coupons per day & you must have a total of $25 (before coupons). The Swiffer Duster Kit is priced at $4.99. In addition, we have a $2/1 Swiffer Starter Kit Printable Coupon (that will double to $4) making it ONLY $0.99. That is a stock up price for sure and a great donation item

Here's what the deal looks like:
**KMART MATCHUPS THRU 9/5**
Swiffer Duster Starter Kit – $4.99
Use $2/1 Swiffer Starter Kit Printable Coupon (doubles to $4)
Final Cost: $0.99 **STOCK UP TIME**
**REMEMBER YOU CAN PRINT 2 COUPONS PER COMPUTER**
If you need coupons, you can order from the best coupon clipping services listed below:
Klip2Save!!
TheCouponClippers!
CouponsThingsbyDeDe
Never miss a deal subscribe to our daily newsletters by CLICKING HERE Also, don't forget to follow us on Pinterest , Twitter, and Instagram!!
Or Purchase my Book Extreme Couponing and Learn How to Coupon and cut your bill by at least half by CLICKING HERE!!

Money Saving Tip: Are you looking for more coupons? Check out all the Printable Coupons currently available at all the various zip codes – my favorite zip codes are 90210, 30303, 77477, 12345, 21286, 84802, 19019, 34689, 62946.

This post may contain affiliate links. Read my complete
Disclosure Policy Here