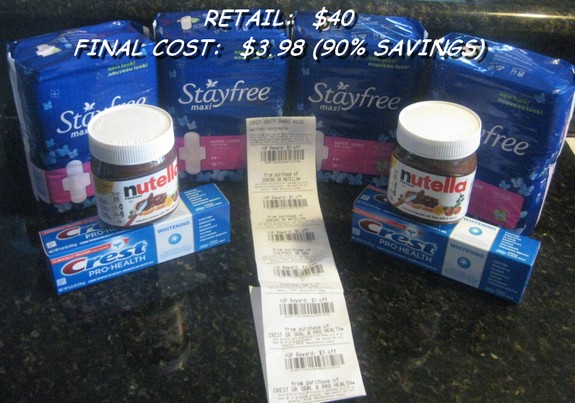 Rite Aid Coupons
Right now you can snag some pretty sweet deals at Rite Aid. Here is a scenario that I did today. I actually had +Up Rewards from last week so my out of pocket was $0 but anyone just starting here would be a great scenario. My son also loves Nutella so this was an AWESOME bonus for us.
Here's what the deal looks like:
**RITE AID SHOPPING SCENARIO**
Buy (2) Nutella Hazelnut Spread – $3.49 – $6.98
Buy (4) StayFree Maxi Pads – $2 = $8
Buy (2) Crest Pro-Health Toothpaste – $3 – $6
Total: $20.98
Use (2) $1/1 Nutella Hazelnut Spread, exp. 11/30/13 (RP 08/11/13 R)
Use (4) $1/1 Stayfree Product coupons found in the 8/25 SS
Use (2) $0.50/1 printable coupon
Pay: $13.98
Get back (2) $1 +Up Reward (Nutella), (2) $1 +Up Rewards (Stayfree), and (2) $3 +Up Rewards (Crest)
Final Cost: $3.98
Never miss a deal subscribe to our daily newsletters by CLICKING HERE Also, don't forget to follow us on Pinterest and Twitter!!

This post may contain affiliate links. Read my complete
Disclosure Policy Here