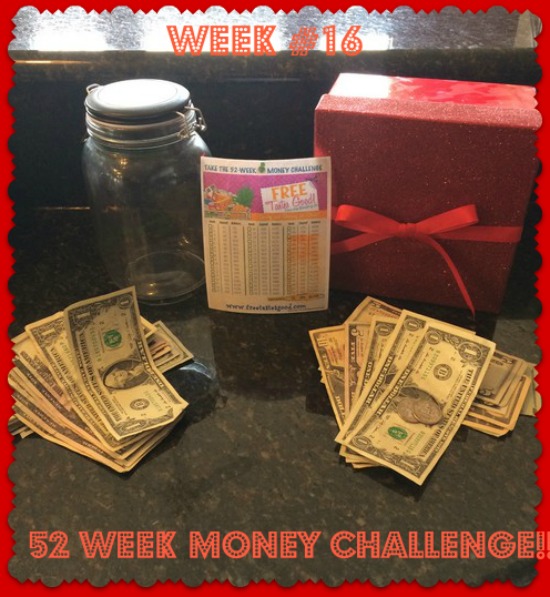 WEEK #16 PROGRESS
Each Friday I will be posting about the 52 week Money Challenge just to check on everyone's progress. All the details are listed below on the Challenge along with a printable file so you can track your progress. We are doing one PLUS we have decided to do a second one (which will be just 1/2 the money) for our CHRISTmas Sparkle Box. The Sparkle Box is our Gift to Jesus on CHRISTmas (since we celebrate because of his birth and I have never gone to a birthday party where I have given gifts to everyone, but the birthday person). We (our family) has decided all the money in our Sparkle Box will be donated to bless a family or two during the CHRISTmas season (anonymously). I am so excited that all of you are on this journey with us. Please comment and share any other ideas that you have come up with:)  We have decided to go in the reverse order and start with Week $52 so here is what we have so far:
52-WEEK MONEY CHALLENGE – WEEK #15
Jar #1 (Our jar) = $675 + $37 = $712
Jar #2 (Sparkle Box) = $337.50 + $18.50 = $356
Many are doing it Week 52, 1, 51, 2, etc, so if you are doing it that way your jar will look like this:
Jar #1 = $416 + $8 = $424
. . and for those going in weekly order:
Jar #1 = $120 + $16 = $136
There is no right or wrong way to do the jar, just do whatever works best for you, but please consider doing a second jar to bless a family at CHRISTmas time!!
Please see below all the details!!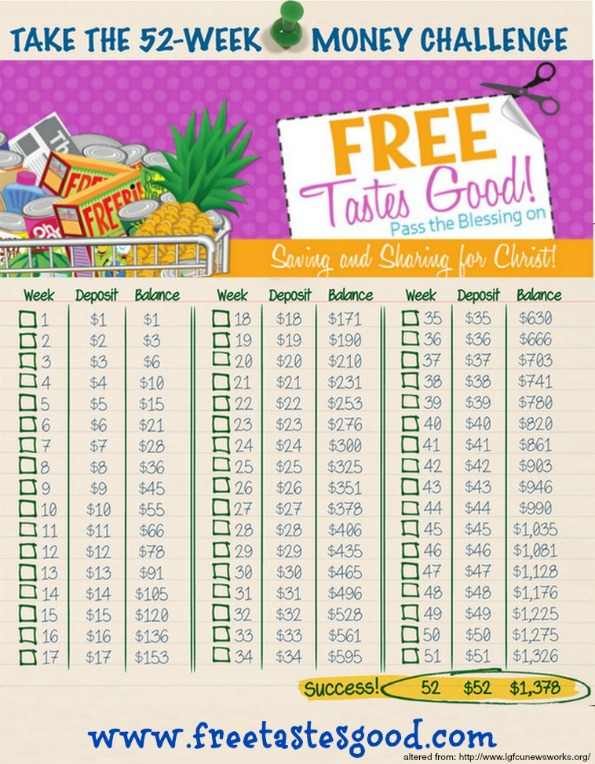 CLICK HERE HERE TO PRINT THE DOCUMENT AND GET STARTED
With the New Year beginning to start many set a goal of trying to save money. I have seen many people do this particular challenge and be very successful. Then each year, they double what they did the year before. It has been fun to watch. I also know many have done it by starting with Week 52 – $52 and doing it in the reverse order.  Some are also stating they are just going to mark off what they can each week so maybe start from the middle.  It doesn't matter which order you do it in, but I highly recommend trying it. You may say, I don't even have $1 to start, but I challenge you to try! It can't hurt.  Also, many are doing this at the work place so they hold each other accountable, how cool to ask everyone to donate $1 weekly and put in a work pool and at the end of the year, adopt a family for CHRISTmas.  We are doing a second one (1/2 of this) and will be donating all the money at the end of the year.  There are so many possibilities and fun twists that you can add to this:)  Plus if you sign up for any of my favorite sites below, you can earn extra that way also and use that has the weekly savings challenge!!  Every Friday we will do an update of where everyone is with this challenge. Just kind of an encouragement for everyone:)
Also, if you are looking for ways to earn and/or save in 2014, here are some of my favorite sites I have joined and earn gift cards. .
Here are a few of my favorite sites:
OPINION OUTPOST: Easiest Survey Site to earn gift cards to Amazon, Walmart, and so many other stores. This is my absolute favorite site!!
Here is a testimony from one of our followers: "Hi, Joni! Here I am again, giving my testimony of how amazing the survey sites are. I just tallied all of my amazon.com purchases since August. Grand total: $650. I spent $29 out of pocket, but used my Jingit card to pay for $15 of that :). So for around $14, I got a jogging stroller/ carseat combo, a Nintendo 3DS, 2 DS games and a case, a tummy time play set, several DVDs, a few books and baby toys, an indoor TV antenna, an OSU uniform for my 6-year-old, breast feeding pillow, and baby bottles! I'm waiting on a few gift cards to be processed now, and once I get them, I'll be ordering a diaper bag that I would have never wanted to pay full price for if I didn't have gift cards to use! I so incredibly thankful for these blessings!! " CLICK HERE TO SIGN UP FOR OPINION OUTPOST!!
SWAGBUCKS - One of the easiest ways to earn gift cards for Amazon, Walmart, etc. After you earn 450 points, you can redeem it for a $5 Amazon card (many other stores to choose from also). You get points just for searching the internet, which most of us do anyhow. This year I earned over $500 in Amazon cards from Swagbucks. Every Friday is Mega Swagbucks, where you can earn even more point. I highly recommend it and all you are doing is searching through swagbucks rather than google!! Easy peasy! CLICK HERE TO SIGN UP!!
IBOTTA: One of my favorite money saving apps for the SmartPhone! I have featured this on Good Morning America in January. A great way to maximize your savings and they have recently added Petco, restaurants, and the movies. . CLICK HERE TO SIGN UP FOR IBOTTA!!
NCP: Join Nielsen Home Scan Consumer Panel – Earn valuable points, which are redeemable for electronics, household items, jewelry, toy, gift cards, and more.(no landline required with this homescan signup) They add new zip codes daily, so if you are not accepted right away keep trying. CLICK HERE TO SIGN UP FOR NCP!
SHADOW SHOPPER: Become a Shadow Shopper and get paid. I have been doing this for over 4 months now and Love it. See one of the emails I received to do a movie theater shop – payment for movie and concession plus $10 more dollars so a total of $40. A FREE movie, concessions, and extra cash. Also, Kim, commented below and she loves it too. You can pick and choose what jobs you want. I have been doing jobs I would do anyhow, i.e. going out to eat, baseball games, oil changes, etc. It is real cash that you get paid!  CLICK HERE TO SIGN UP!!
Let's try this TOGETHER and see how we all do on December 31, 2014!!

This post may contain affiliate links. Read my complete
Disclosure Policy Here