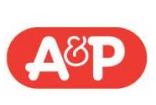 A&P FREE/CHEAP deals are brought to you by Living Rich With Coupons!! Feel free to visit Cindy's site for the full ad matchup as I only feature FREE/CHEAP items!!
Things to remember:
• Double manufacturer coupons up to and including $0.99. Coupons over that amount will be redeemed at face value.
• Only "4" like paper coupons allowed per product.
• Internet Printed Coupons: 2 allowed per product. Each coupon can not exceed $5.00 in value. Internet coupons for FREE items are not accepted.
• Store coupons CAN BE stacked with manufacturer coupons
Find your nearest A&P!!
BEST DEALS FOR THE WEEK!!
Mueller's Pasta – $0.88
$0.55/1 Mueller's Pasta printable
Final Cost: FREE
Ivory 3 Pack or Safeguard – $1.49
$0.50/1 Ivory or Safeguard Personal Cleansing Product, exp. 10/31/12 (P&G 09/30/12)
$0.50/1 Ivory or Safeguard Personal Cleansing Product printable
Final Cost: FREE
YoCrunch Cup – $0.60
$0.25/1 YoCrunch Cup printable
$1/4 YoCrunch Cookie & Candy or Granola Cups printable
Final Cost: As low as $0.10 each
Stonyfield Organic Yogurt – $0.60
$0.50/3 Stonyfield Organic Yogurt printable
Final Cost: $0.26 each wyb 3
Cesar Canine Cuisine Entree – $0.80
B3G1 Cesar Savory Delights Dog Food printable
$1/2 Cesar Canine Cuisine Entree printable
B3G1 Cesar Canine Cuisine Entree printable
Final Cost: As low as $0.30 each
Activia 4 Pack – $2.00
$0.75/1 Activia Product, exp. 10/28/12 (SS 09/16/12 R)
Final Cost: $0.50
Campbell's Spaghetti0′s Pastas – $1.00
$0.50/5 Campbell's SpaghettiO's Pasta printable
$0.40/3 Campbell's Spaghettio's, exp. 10/21/12 (SS 09/09/12 #2 R)
$0.40/2 Campbell's Spaghettio's, exp. 10/21/12 (SS 09/09/12 #2)
Final Cost: As low as $0.60 each wyb 2
Don Pepino Pizza Sauce – $1.25
$1/3 Don Pepino Pizza Sauce printable
Final Cost: $0.91 each wyb 3
Q-Tips Cotton Swabs – $2.99
$0.75/1 Q-Tips Cotton Swabs, exp. 1/31/13 (Making Life Better Unilever Booklet)
Final Cost: $1.49
Frito Lay Multi Packs – $4.99
$2/2 Frito Lay Multi Packs (A&P eCoupon)
$1/1 Frito-Lay Variety Pack, exp. 10/20/12 (Pepsi Moments 09/30/12)
Final Cost: $2.99 with stacked coupons *Deal only good though Saturday – coupon expires
3 Day Sale 10/19-10/21
Doritos or Ruffles – $1.99
Must Buy 2, Additional $25 Purchased Required
$0.50/1 Doritos Jacked (A&P eCoupon)
$0.55/1 Doritos Jacked Chips, exp. 10/20/12 (Pepsi Moments 09/30/12)
Final Cost: As low as $0.39 *If Jacked is part of the sale
* This post may contain affiliate links. Read my complete
Disclosure Policy Here