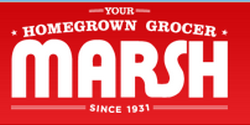 Things to remember for Marsh:
* Manufacturers' coupons of $0.50 or less are double their face value (manufacturers' coupons $0.51 or more will be redeemed at their face value). Offer applies to manufacturers' coupons (not Marsh sponsored coupons) clipped from newspapers, magazines, received by mail or printed from legitimate internet sites (brand websites and coupon sites like www.coupons.com and www.redplum.com)
* Limit of 2 identical coupons for 2 identical items (additional identical coupons for an identical item will be redeemed at face value).
* Marsh does not accept internet printed coupons for "free product" unless it is an authorized coupon from Marsh.
* Internet printed coupons must scan at the checkout and must follow industry-standard format (example below).
Digital Coupon Policy:
* In order to clip and redeem paperless digital coupons at Marsh, you are required to have an online account at www.marshrev20120409.com and your valid Marsh Fresh Idea Card number must be registered on this account. When you shop at Marsh, you must scan the Fresh Idea Card that has the same number as on your www.marshrev20120409.com account. The following limitations apply:
* Limit 1 digital coupon per item.
* Digital offers cannot be combined with manufacturers' paper coupons on the purchase of a single item.
* Digital offers do not double or triple.
You can also view the complete coupon policy here!
Find your nearest Marsh!!
BEST DEALS FOR THE WEEK!!

This post may contain affiliate links. Read my complete
Disclosure Policy Here