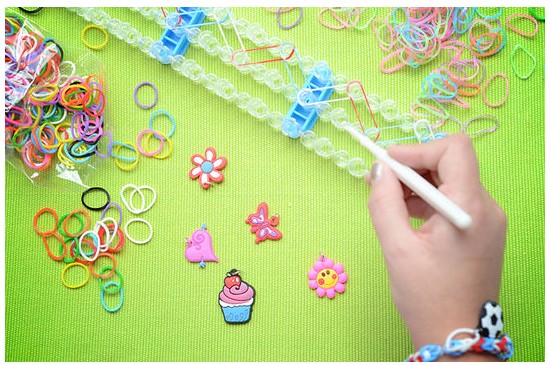 **THINK CHRISTmas**  This is one of the hottest toys on kids' CHIRSTmas Wishlists this year and right now LivingSocial
is having a HOT deal on this. CLICK HERE to snag this Deluxe DIY Loom Kit for ONLY $12 (reg. $25)!
But you can sweeten this deal and enter promo code "Gift20″ and get 20% off so snag this deal for ONLY $9.60!!  That is a SMOKIN' HOT PRICE!!
Boys and girls alike get a kick out of crafting their own wristbands and accessories with this DIY loom kit, one of the hottest gift trends this holiday season:
• $12 ($25 value) for a Deluxe Combo Loom Kit
• Includes loom board, 2 hook tools, 1,200 bands, 50 S-clips, and 6 charms
• Latex-free rubber bands include 600 rainbow, 200 tie-dye, 200 glitter, and 200 glow styles
Get Creative
Stretch the rubber bands from pin to pin on the loom board, and then link them together using the hook tool. Seal the deal with the S-clip closure, and you've got a unique creation you can flaunt, share, or gift.
Carco Trading's Website
PAID VALUE EXPIRES ON November 20, 2018
PROMOTIONAL VALUE EXPIRES ON February 27, 2014
the fine print
Limit 1 redemption code at checkout
Entire value must be used in a single visit
Shipping not included; flat-rate fee of 4.95 to continental U.S.
Product will be delivered two weeks from the time of redemption on merchant site
Please order by 12/09/13 to ensure delivery by 12/24/13

This post may contain affiliate links. Read my complete
Disclosure Policy Here