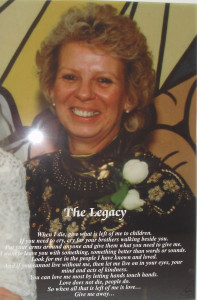 **WE ARE $441 SHORT, CAN I GET 1137 OF YOU TO EACH DONATE $1, YES, ONLY $1 TO MAKE THIS MIRACLE HAPPEN**
Okay we are getting prepared for our 16th-annual MIRACLE CHRISTmas. Jamie and I started this in memory of my mom who we lost to kidney cancer 15 years ago on October 11.
We have selected our families for this year and now have the majority of our "WISH LIST ~ NEED LISTS" TAB. If you go to the website t to the MIRACLE CHRISTmas website by clicking here  and look at the tabs you will see all our needs.  We currently need $441 to make this MIRACLE HAPPEN or please feel free to pick up an item from the "wishlist"!!  You can also make a monetary donation via paypal through the website by clicking on the "Make a Donation" tab.  We ask everyone to PLEASE PRAYFULLY CONSIDER THIS  – You can send payment via paypal to crothers8@aol.com or go to the website that is linked to the account (miraclechristmas.com) and click on the "Donate tab".  We only have about 1/4 of the list up so far, but slowly getting there.  What a huge blessing if everyone would donate just $1 to make this MIRACLE HAPPEN!! Don't discount the smallness of 1 as Jesus performed the miracle with 5 loaves and 2 fish!! Two of the families from this page got helped two years ago and I am sure they will vouch for how wonderful the party is.  Thanks for considering everyone and thanks to our generous donor:)  GOD IS GOOD. . . ALL THE TIME!!!
Here is the poem she left for us when she passed. It was out of the Chicken Soup for the Soul Book.
THE LEGACY
When I die, give what is left of me to children.
If you need to cry, cry for your brothers walking beside you.
Put your arms around anyone and give them what you need to give to me.
I want to leave you with something, something better than words or sounds.
Look for me in the people I have known and loved.
And if you cannot live without me, then let me live on in your eyes,
Your mind and your acts of kindness.
You can love me most by letting hands touch hands.
Love does not die, people do.
So when all that is left of me is love. . .
Give me away. . .
In honor of my mom, we thought what better way than to "GIVE HER AWAY" than by making her life a legacy and sharing her with so many unfortunate families at the holidays. We have been able to help hundreds of people in the 15 years.
This is called "MIRACLE CHRISTmas" as it is not an ordinary party, as Jesus was not an ordinary gift to us. God exceeded all our expectations with the gift he gave to each of us in Jesus!! No strings attached. Some of these families have never been loved unconditionally. This may be the first time in their lives that they feel God's love and for some this may be the break they need in their lives. This may be the flickering light at the end of their "dark tunnel". This is a special party on CHRISTmas Eve for 26 children and one adult and their families including Bibles for each child, reading of Jesus' Birth, and lighting Jesus' Birthday Cake as everyone sings HAPPY BIRTHDAY TO JESUS!
We pray for the party to go well, for the families to feel the love of Christ, and most importantly for God to be glorified. Thanks in advance for considering helping. It is truly appreciate. May you have a BLESSED AND WONDERFUL CHRISTmas!!

This post may contain affiliate links. Read my complete
Disclosure Policy Here