Click on banner above and sign up for FREE for Kellogg's newsletter and receive the latest news, special offers and exclusive savings from Kellogg.
Here's how to use this AWESOME FREEBIE:
1) Look for specially marked Kellogg's Family Rewards products like cereal, crackers, and snacks
2) Find a complete list of all the participating products and their point values HERE!!
3) Enter the 16 digit code found inside the item to accumulate points.
Enter the following codes to get started!
XOXO-XOXO-XOXO-XOXO -25 points -Thank you Hunt for Freebies:)
FOODNETMAG50PNTS – 50 points
GOODHOUSEMAG50PT – 50 points
HOWITWORKS20PNTS – 20 points
JOINKELLOGG2SAVE – 50 points
KFRFREEGROCERIES – 50 points
KFRNOWONFACEBOOK – 20 points
REDBOOKKFR50PNTS – 50 points
ENTERDELTASWEEPS – 50 points
ERESUNGANADORHOY – 50 points
EZ25POINTSFORKFR – 25 points
FAVHOLIDAYCOOKIE – 25 points
KFRDELTAENTERNOW – 50 points
KFRFAVPOPTARTS10 – 10 points
MARIECLAIRE50PTS – 50 points
4) Redeem your points for rewards such as magazine subscriptions, high-value coupons, toys, and other items.
5) You may also receive emails with bonus codes from Kellogg's and high-value coupons! Plus it's FREE to sign up!! You will be entered for a chance to win $200 in groceries when you enter codes, plus you can redeem your points for high-value coupons. Most of us use Kellogg's products, so why not maximize our savings. Below are some of the coupons available for immediate print!! I highly recommend signing up and taking advantage of this wonderful program!!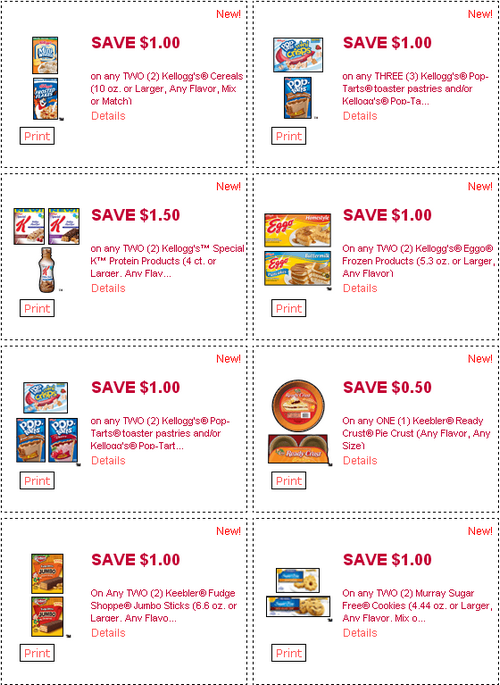 [googlead]

This post may contain affiliate links. Read my complete
Disclosure Policy Here