Want to stay up-to-date on all the deals. All you have to do is subscribe to the blog and you will get daily e-mails with all the deals I have posted.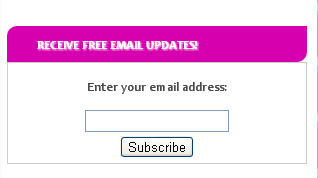 Look for this box on the right-hand sidebar and just add your e-mail address. You will receive an e-mail to confirm your e-mail address and once you do that, you will get your daily e-mails. This helps out and you will NEVER miss any of the deals posted!!
HERE ARE 3 OTHER WAYS TO STAY CONNECTED:
Join us on FB
Join us on Pinterest
Join us on Twitter!
* This post may contain affiliate links. Read my complete
Disclosure Policy Here