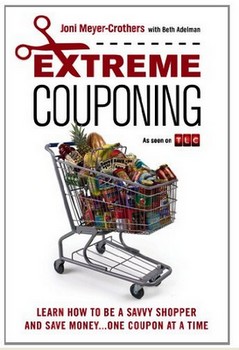 **ONLY 4 LEFT**
**SPECIAL ~ PAY $12 + GET A $5 KLIP2SAVE eGIFT CERTIFICATE SO LIKE PAYING $7**
Do you want to learn how to coupon?  Do you want to learn how to cut your bill by at least half?  Do you want to learn how to pass the blessing on?  If so then purchase  "Extreme Couponing" Book.  I am beyond excited to share this information with you all. My book is NOW available.  I cannot thank all of you that have believed in me enough! This is such an exciting time in my life. If anyone would have told me 20 years ago when I listened to my kids say every night "Mommy, we're hungry", I would have never believed it. What a mighty God we serve. Thank you Jesus!!
IMPORTANT INFORMATION BEFORE ORDERING:
1)  If you want the book signed, please state who you would like it made out to i.e. your name, friend's name, etc. in messages to seller when purchasing the book (you will see this in paypal)
2) Within 24-48 hours of receipt of your payment, I will send you the $5 Klip2Save eGift Certificate (Be sure that you have the correct email address that you want it sent to)
2)  $1 of each book sold will be donated to Sylvania Area Family Services!
So now since you have all that information, click on the "Buy Now" tab below!
Thank you again everyone for your support. Please continue to pray for the book, for me, for my ghost writer, Beth, and for every person that purchases this book. I have said if one life is changed because of this book, then I did what I was supposed to do. . all for the Glory of God!!
You can also purchase via Amazon Extreme Couponing: Learn How to Be a Savvy Shopper and Save Money… One Coupon At a Time BY CLICKING HERE
, Cost $11.19, but I will not be able to sign those since they are shipped by Amazon!
* This post may contain affiliate links. Read my complete
Disclosure Policy Here