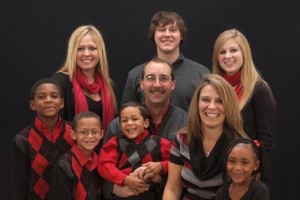 My name is Joni Meyer-Crothers and I run an extreme couponing blog, freetastesgood.com, that teaches others how to coupon and save a significant amount of money.  My husband's name is Jamie and we have been blessed with 7 children.  We started couponing almost 6 years ago due to my husband's job loss in the automotive factory.   What started out as just a way to save money for our family quickly turned into a ministry.  Within 2 weeks of couponing we had nearly $3000 worth of items that we had only paid $100 for.  That was our Aha-moment when we realized we could make a huge difference in our community and help feed the hungry/less fortunate and beyond.   Since then, life has been a whirlwind.  I just recently wrote a book called "Extreme Couponing" (released March 5, 2013)  that gives step-by-step directions on how to coupon.  My main goal is to teach others how to cut their bill by at least 50% if not more and through those savings to be able to pass the blessing on to others in need.  I have been featured on TLC "Extreme Couponing" five times, The 700 Club, 20/20, Today Show, GMA, HLN, Rachael Ray, AOL "You've Got", Fox News, CNN Money, Huffington Post ~ to see a complete list you can click on the right-hand sidebar and the clips and articles are listed there.
Through couponing, I have been able to save our family thousands of dollars a year by couponing and other frugal living tactics.  This blog has allowed me to help hundreds of thousands of others save money also.
My mission statement remains Matthew 25:40 "The King will reply "truly I tell you, whatever you did for one of the least of these brothers and sisters of mine, you did for me." This is such a good reminder that we are called to help others, and through couponing we truly can:) We are not called to hoard and keep blessings for ourselves, but we are to share what we have with others. We are told to give of our FIRST fruits not our leftovers. We want that message out there, NOT ABOUT WHAT WE DID, BUT HOW GOD USED ORDINARY PEOPLE (us) and how God can impact our communities, one life at a time with the help of ordinary people ~ ALL OF US!! I continue to challenge everyone weekly to donate 5 nonperishable or hygienic items to a local food bank/pantry and/or family you may know in need.  Don't ever discount the smallness of any act of kindness. . it matters!

This post may contain affiliate links. Read my complete
Disclosure Policy Here