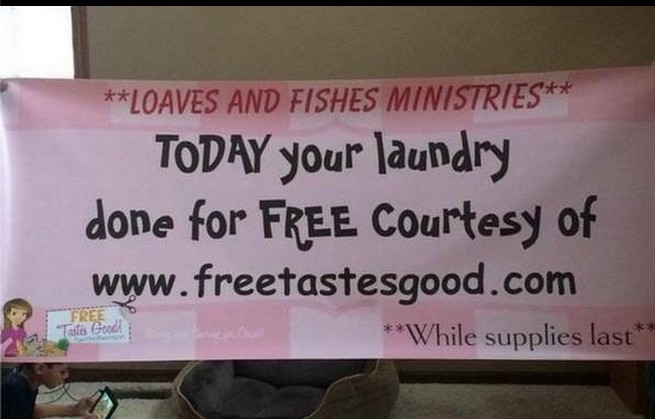 Since we did our first FREE Laundromat Day in February, I am receiving 100s of email weekly asking how to do this successfully. First, every area, laundromat, etc is going to be different so there is no right or wrong answer. I think everyone personally has to come up with their own plan and then tweak it from there. I did hours of research before we did our first one and each time I am sure we will tweak it a little bit.
Before you can even start planning, you have to find a laundromat that is willing to allow you to use their facility. You can really do no other planning until you have a laundromat lined up. Once you have a laundromat that agrees to participate, you will need to see how many washers and dryers they have. If they have the mega washers are you going to use them or just do the smaller washers. If you use the mega washers, you are looking at taking up 2-3 dryers for that one washer, so that needs to be taken into consideration. Also, find out what the average cost is per load to dry. Most of our local laundromats are around $2 (that is a 99% guarantee they are completely dry). You want to make sure you have all the funds you need to make this successful. From there, you decide how many hours will we do this event, 2, 3, 4, etc. I would recommend 2 or 3. At our first one in February, we did it for 4 hours and that is a long time! You will also want to start your last wash cycle about 45 minutes before the end time, so you have time to get the last loads in the dryer. Make sure the number of washers matches the number of dryers. If you have more washers than dryers (which most laundromats do), then I recommend only using the same amount of both washers and dryers as this allows it to run more smoothly. Also a big decision will be, are you going to limit how many loads each person/family will get. We limit ours to 2 loads per family so we can help more families; that is a decision each individual organization will have to make. We also used a number system. We knew ahead of time how many loads of laundry we would be doing (determined by the length of time we were going to be at the laundromat), so we made up that many number cards and laminated them ahead of time. All of our signs said "while supplies last" and/or "Limited supplies". As people arrived they received a number and we wrote their name by each corresponding number. That way when we had washers open up, we called the next name/number and then highlighted them off our list and they returned their number to us. You will also need to decide if you want to provide food. If you do, I do not recommend advertising that, as you will get several people off the street just for food and space is already limited at most laundromats. Again, that is going to be a personal preference for each organization. Once you determine how many loads of laundry you can do, both wash and dry, you can determine what supplies you will need. Again, It is better to have too much than not enough. I want to end by saying again, there is no right or wrong way to do this. This is just a brief synopsis of how we did it, but each individual organization may want to do things a little differently, but I do highly recommend the number system, as it keeps things more in order. The most important thing, in my opinion, is prayer. Once you decide to do it, ask for people to commit to praying for it, for the people that will be receiving the blessing, for the volunteers, for the laundromat, etc. It is a huge undertaking, but everyone that leaves there will be changed, both the givers and the receivers. It is AMAZING. AND be sure to have great fellowship and love on the ones receiving:) This is something that could change their lives! I hope this helps anyone considering doing a FREE Laundromat Day and would love you all to share pictures when/if you do it. My prayer is many will get involved in this cool way to show the Love of Jesus to so many others. Something we may take for granted, but a luxury to so many families.
GOD IS GOOD. .. ALL THE TIME!!

This post may contain affiliate links. Read my complete
Disclosure Policy Here