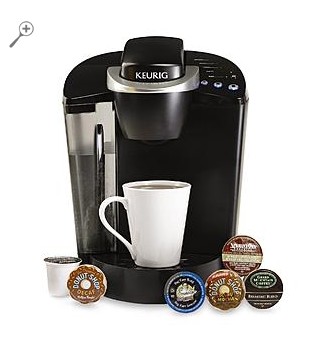 YOU WILL WANT TO HURRY ON THIS DEAL (PLEASE READ COMPLETELY)- I just did it:)  The Keurig Elite Brewer is $119.99 + the K-Cups are $11.99. You can use coupon code 25OFF125 at checkout to take $25 off a $125 order PLUS members earn $61 in SYWR points.  Make sure you are a Shop You Way Rewards Member first to take advantage of this deal.   It's FREE to join. You will also get an EXTRA $6.12  from Ebates when you do this deal PLUS new members will get an additional $10 gift card (Target, Kohls, Walmart, etc) l! After all these promos and discounts it's like paying only $24.84 (reg. $131.99!!) SMOKIN' HOT DEAL!!
You can get this by Christmas if you pick it up in the store – PLEASE NOTE TO CHOOSE STORE PICK UP OR FREE SHIPPING!
Step by Step How to get this deal:
1. Make sure you are signed into your ShopYourWayRewards account first:
Look in SYWR under My Coupons
Load any e-coupons on to your account if they might apply to this deal (some readers have seen $10 back in points on a $50 purchase) –

I DID NOT HAVE ANY COUPONS!!

If you find an ecoupon that will apply to your order your savings will be even greater
2. Log in or Sign up for Ebates (it's FREE) 
3. After you have signed up, STAY ON THE EBATES SITE AND search "KMART" from the "search bar" (pictured below) at the upper right-hand corner of page. Now Click "SHOP NOW" and you will see a tracking box that shows Ebates is tracking your purchase and then it will direct you to the official KMART site (MUST FOLLOW EXACTLY AS OUTLINED TO GET CASH BACK!)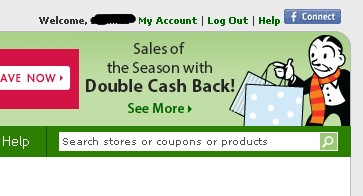 Once on Kmart do a search for "Keurig K45 Elite Brewer" – it will be $119.99 – add it to your cart.
Search for "Keurig  Green Mountain Breakfast Blend Coffee OR any including Green Mountain Coffee Hazelnut Coffee, 18 count K-cups (just need your total to be over $125)  – it will be $10.49 – $11.99 – add it to your cart. (Just make sure they are sold by Kmart)
At your cart your total will be $131.98
Use coupon code 25OFF125 and your $25 will be taken off at checkout
Shipping will be FREE
At checkout look on the right side for this:
IF you do not see $61 in points then make sure you are signed into your SYWR account. Readers have reported only seeing $30 if they are not signed in. You can spend these points on anything at Kmart or Sears.
Your total will be $101.98 (plus tax) BUT you will get $61 in points

After you checkout you will get $6.12 back in your Ebates account (within 48 hours) + a $10 gift card within 2-4 weeks for Target, Kohls, or Walmart for NEW Ebates members!!
You pay $101.98 OOP, you get $61 in Kmart SYWR points and $6.12 in cashback + $10 Gift Card for NEW Ebates members,  so it's like only paying $24.84!  If you had an ecoupon you may even have bigger savings!
Huge Thanks and Photo Credit:  Cuckooforcoupondeals

This post may contain affiliate links. Read my complete
Disclosure Policy Here