Here's a review from one of our readers: "I received the knife and my first impression was that it looks like a nice, good quality, professional knife. I noticed the aeration notches on the side of the knife and knew that would help a lot with cutting! I tried the knife out on a tomato first and it cut it like it was butter! Amazing!! Normally I need to use a serrated knife on tomatoes. This knife cut right through it very smoothly. I then tried it on bell peppers and onions. Again, it cut like a dream! This was very much worth the $8.95 and more! If i could change just one thing, I would want a slightly more rounded edge so that a "rocking" chop would be a little easier. But this is a very minor critique. I'm very thankful to be able to add this knife to my collection!"
The Ultimate Santoku Knife combines the best qualities of a cleaver with the versatility of a chef's knife. The combination makes it unbeatable for fast cutting, chopping, slicing and dicing. Order yours today BY CLICKING HERE!! I have done a google search on these and Walmart has something similar to this for $69.99 so it truly is a good deal:) This is my knife and I love it!!
**I RECEIVED MINE AND IT IS AWESOME**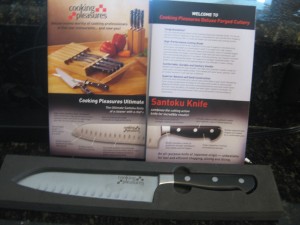 Built to professional grade standards for high performance:
Long 7″ double-forged, stainless steel blade is a masterpiece in itself, capable of holding a razor-sharp edge for an extremely long time.
Ergonomic design means your hand easily wraps around the handle.
And here's what smart cooks like most — the dimples on the blade that prevent food from sticking!
IMPORTANT INFORMATION:   This is a great offer and I'm sure you will love it as much as me and want to continue on completing your knife set with future shipments.  However there is NO obligation to continue.  As always, please make sure you read the terms and conditions of this offer before signing up. Please allow up to 21 days from order date for delivery. If you have questions or concerns, please contact Customer Service. The toll-free number is 1-800-209-8397. Operators are available Monday through Saturday 9:00 am to 9:00 pm EST.  If you should choose after your first shipment or after your order that you do not want any future shipments, you will need to call and cancel or you are automatically put in the auto subscription or if you have questions or concerns, please contact Customer Service. The toll-free number is 1-800-209-8397. I canceled mine upon arrival of my knife and it was very quick and easy:) 

This post may contain affiliate links. Read my complete
Disclosure Policy Here