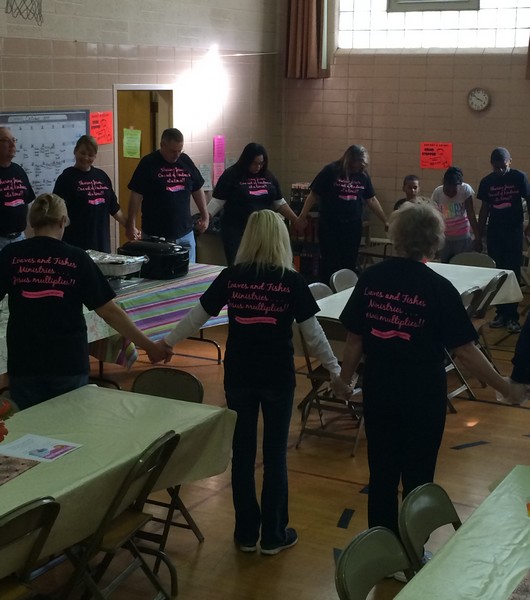 Luke 14:12-14 NIV "Then Jesus said to his host, "When you give a luncheon or dinner, do not invite your friends, your brothers or sisters, your relatives, or your rich neighbors; if you do, they may invite you back and so you will be repaid. But when you give a banquet, invite the poor, the crippled, the lame, the blind, and you will be blessed. Although they cannot repay you, you will be repaid at the resurrection of the righteous." Amen. Today was simply amazing. As most of you know we feed the homeless/less fortunate once a month and today was an amazing day. This has become one of the most special days in our family's life. Before we open the doors to serve someone prays over the event and today Danielle prayed. It is so cool to watch the circle form and everyone holding hands. More than anything else that happens during the meal, we want God to be glorified and for everyone to feel his presence, not just those receiving, but those volunteering. We have gotten to know so many of the people we serve and we know them by name and they know us by name.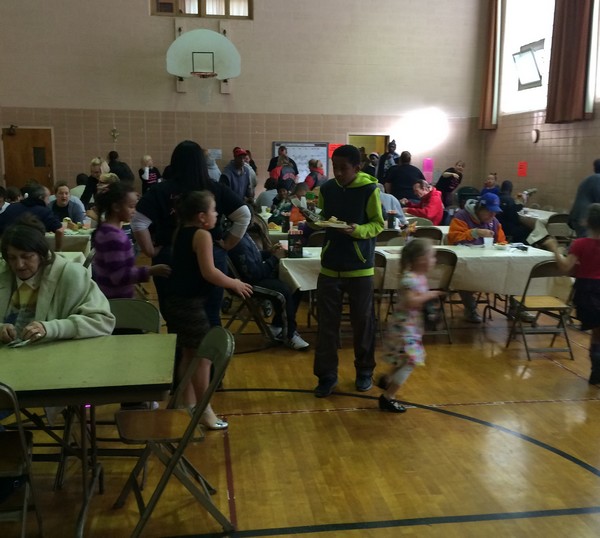 It has opened the door for so many friendships to be formed. Everyone has a story, we don't know why some are down and out, but we can get to know them and love them and let them know we care. Everyone wants to know someone cares about them and that is what we are called to do. Our prayer continues to be that as people are coming to be fed physically, we can also feed them spiritually by the love they feel. It is nice to hear so many compliments, compliments of how kind everyone is when those being served leave. We heard many thank yous today. Many people saying thank you for serving and not expecting anything in return. Jesus went out in the community and served and that is what we want to do. We want EVERYONE to know they are loved and are God's masterpieces. It doesn't matter what their past says about them, because in God's family you are a masterpiece; created in his image and we ALL matter.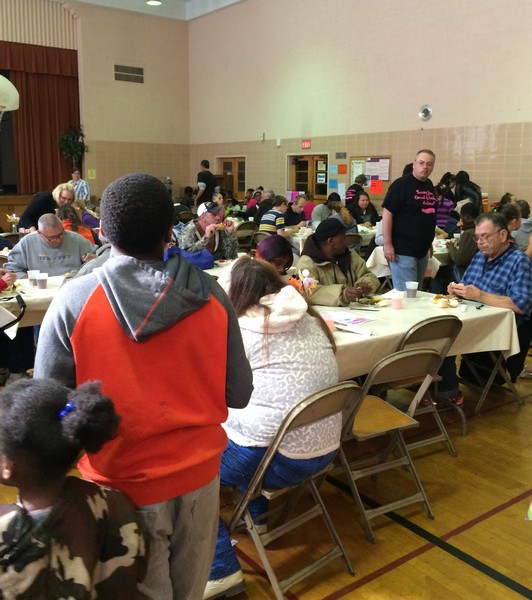 Today, we were able to feed approximately 200 people. Thank you Jesus, simply AWESOME. We start serving at 4 p.m. and by 4:20 p.m. one roaster oven was already empty and I began praying Loaves and Fishes. As soon as Ed opened the door, there were at least 25 people and the line just kept coming. We also served many teenage boys today.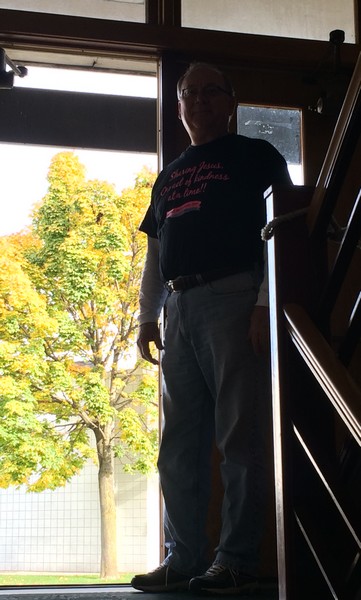 It was a very touching, emotional day. I am sad to say that I didn't get to see Dennis, so please pray that he is okay and safe and warm somewhere.
There were many people lined up so I knew it was going to be a good day!! It is so cool to see familiar faces and new faces. Eric and his wife, Phyllis, have gotten to know us and Phyllis has paralysis of one arm, so Eric always has me or Isaiah help with her plate while she get their seat. He also informed us that he has a November Birthday and put a request in for a strawberry Birthday Pie at next dinner (November 23rd) and of course you know we will make sure he has a strawberry pie made especially for him and full of LOVE.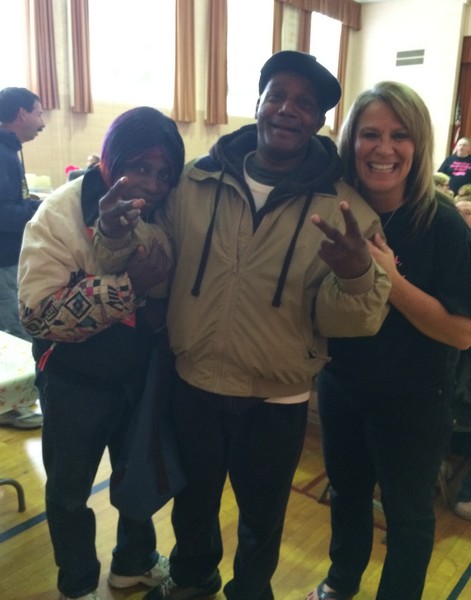 It is so cool to walk in the auditorium and see the fellowship taking place, kids laughing, smiling, and enjoying all the yummy goodies and today they received a Halloween Goodie Bag full of candy! Well, we probably should have waited until after dinner to give it to them, because many of the kids wanted to eat the candy first LOL 🙂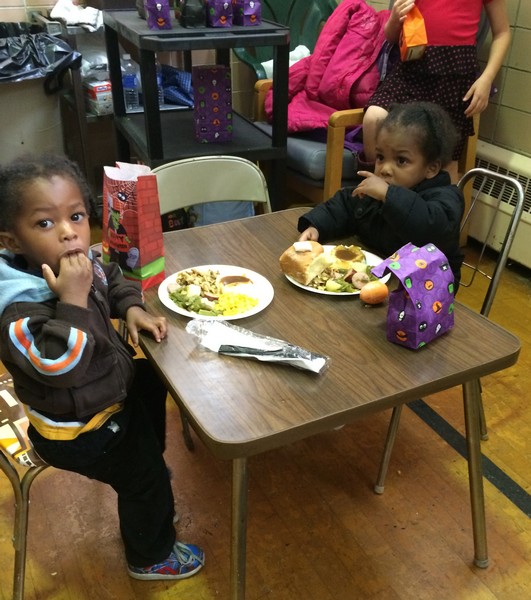 We have the most AWESOME volunteers ever. I truly do not know what we would do without them. So many friendships have formed and I am so blessed by each and everyone of you that serve with us. We had extra helpers today so were able to actually go table to table and hand deliver drinks and desserts. It is so cool to be able to serve everyone in every capacity possible. To watch so many of our children pitching in to serve also!!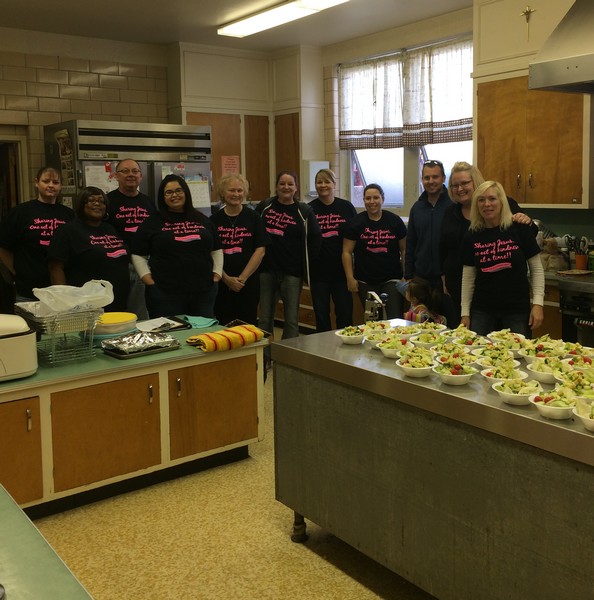 That's what being a part of God's family is all about, serving others, and not worrying about ourselves. We are seeing love with no barriers. A love that comes only from Christ. I know each time I try to personally thank each and everyone of you that help make this possible; whether making a monetary donation, donating food, volunteering, or praying over the event; it all matters. I cannot thank you all enough and I truly hope you all know how much this means to so many. Lives are being impacted because so many of you care about others. None of us can help everyone, but all of us can help someone, and when we do, we serve Jesus. Love you guys more than you will ever know!!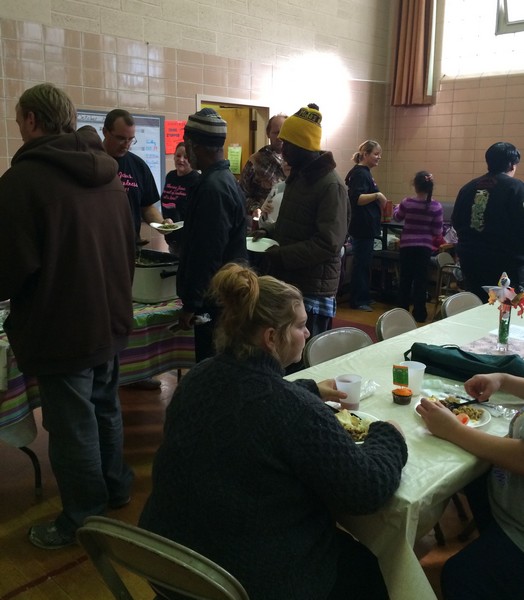 GOD IS GOOD. . . ALL THE TIME!!

This post may contain affiliate links. Read my complete
Disclosure Policy Here