ACTS OF KINDNESS ~ MATTHEW 25:40
Oh my heart is so full of JOY . .. and all I can say is THANK YOU JESUS, THANK YOU JESUS, THANK YOU JESUS!!!!! I have such a whirlwind of emotions tonight. When we plan for these Feeding the Homeless/Less Fortunate meals we just never know how many will come, how it will turn out, but one thing is for sure, we completely cover EVERY aspect of it in prayer. The preparation of the food is one of my favorite things. As we are making the food, me, Jamie, and the kids pray over it. That not only the people receiving the meal will be fed physically but also spiritually. That they will see Jesus through all of the volunteers. Today, we AMAZING. We served well over 300, probably closer to 350-400 people. As you can see from the pictures, there were no empty seats. We arrived at the church at 2:15 and people were already lined up and we were not serving until 4 p.m. The amount of LOVE that the volunteers show is so AWESOME. I always feel bad because I never get to thank everyone enough for helping as things get so crazy, but from the bottom of my heart please know I know none of this is possible without ALL OF YOU. From the volunteering, to the donating food, to the monetary donations, and all the prayers. You are all appreciated more than you will ever know and please accept this as acknowledgement from me on how much you mean to me. Our prayer circle was amazing today. As you all know, before we open the door, we pray over the volunteers, the people coming in, and invite Jesus to our event, and all the glory goes to him and him alone! The power in the prayer is amazing and Satan doesn't stand a chance:)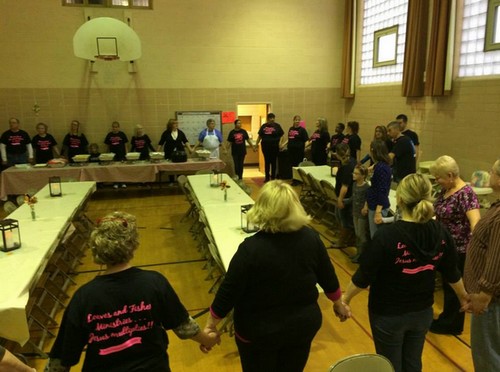 This has nothing to do with any of us, but everything to do with God. Today was a Thanksgiving Feast so after we prayed, Danielle and I went outside to pray with the people coming in to be fed. The line was wrapped around the church (probably 100 people) it was amazing and Danielle's prayer was perfect!! Once the doors were open it was major chaos, BUT good chaos, LOL:) Within 10 minutes we had went through the first roaster oven full of stuffing.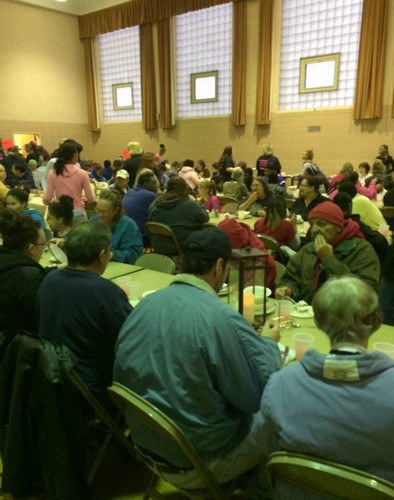 We only had one more, so Gina headed to the store to pick up 15 boxes of Stove Top & some more lemonade. You see that is the amazing thing, everyone comes together to SERVE others. It is not about feeding them a meal, it is about serving them. Going around with drinks, desserts, salads, and serving THEM ~ to let them sit down and relax and we go to them. Thanks to Jen and Neil for organizing the beautiful centerpieces and music and today we served on glass plates and silverware. It was a special day in every aspect possible. Eric was so excited about his strawberry pie, you remember it was his birthday.


I think for me the coolest thing is so many friendships are forming between the volunteers and those coming to be fed. The smiles, the laughter, and the friendships. God is in the house!! You can feel his presence in that room, because it is so full of LOVE, a LOVE that only comes from God. I won't lie when the kids told me Dennis was there, my heart skipped a beat. I love this man more than you all can imagine. He has blessed me so much by just knowing him.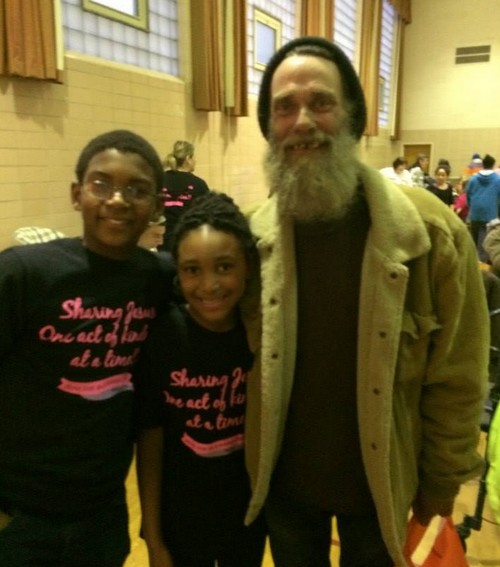 Our kids had made a decision that they wanted to use some of their money to buy "Uncle Dennis" a new pair of boots. He is homeless and it is cold. I had asked everyone to send Jonah and Isaiah a birthday card, I was not expecting them to receive money only cards, as that is all they wanted. Ms. Gladys and Mr. Ed sent them a card and each one had money in it. Jonah and Isaiah were so excited because with the money they received they had reached their goal to be able to get "Uncle Dennis" his boots. He will be coming over for Thanksgiving Dinner with us or we will be picking him up on Saturday to go get his boots. It brought him to tears when Isaiah told him. Isaiah sat at the table with Uncle Dennis and just talked to him and to see them all give him hugs and watch him light up, well there isn't really anything better than that. We are so proud of our children. They have such loving, compassionate hearts and they see Uncle Dennis for what he is, a masterpiece of God!! Each month when we find out it is someone's birthday, we make a special dessert for them, well tonight 3 people told me their birthdays were in December. I think they like that little extra special love they are receiving!! I wish I could bottle up all the LOVE and give it to each of you, because it is so refreshing. There is honestly nothing like it. To experience it first hand is priceless. We also handed out close to 180 care packages ~ AMAZING!! Tonight as I write this I am crying tears of joy, thanking God for today, for all of you that helped, those that stay and help clean up, for loving me and my family too. You guys are so special to us and we love you guys. I think we are all seeing miracle after miracle happen through these meals.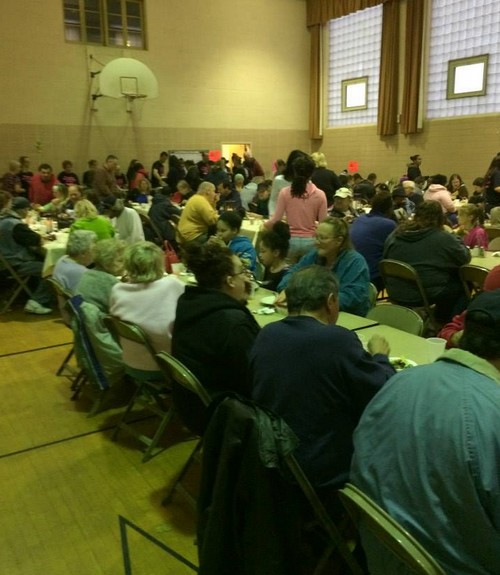 Our next meal will be December 21st and it will be a Ham dinner. I am also trying to get 50 stuffed animals and books to hand out to the children as they come. I will try to have the sign up list done tomorrow night (God Willing). I would love to hear all of your thoughts on today (anyone that helped). Thank you all and please know I love you guys and when I say that, I truly mean it. Life is better because of each and everyone of you and I am so thankful to have each and everyone of you in my life. GOD IS GOOD. .. ALL THE TIME!!

This post may contain affiliate links. Read my complete
Disclosure Policy Here