Check out this hot deal at Meijer right now! If you don't already have an Mperks account you will need to create one, it's completely free! When you do this order you need to select home delivery or pick up! I did pick up as it was free.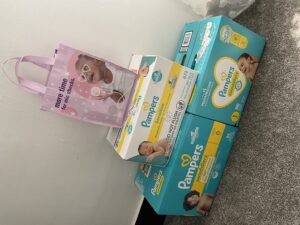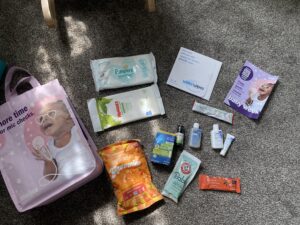 They included this FREE gift bag as well
---
Here is a breakdown of my order:
1 Pack of size 6 – $42.99
1 Pack of size 2 – $27.99
1 12 pack of Wipes – $21.99
Total cost before coupons: $93.37
Total cost after coupons: $37.77
Coupons used:
$5 off purchase of $20 on baby wipes
$20 off when you spend $75 on Diapers,Training pants, Youth pants
$10 off purchase of $75 or more Pampers, Luvs, Dreft
Use Code Share15 for $15 off
Use Code Grandslam for $5 off
(This does not work for everyone but some people have been able to use an additional code "SAVEBIG")
This gives you a total of $55 off. Now if you have mperks or other coupons you may be able to get an even lower price.
If it's your first time ordering you could get this same order for $22.71 pre tax!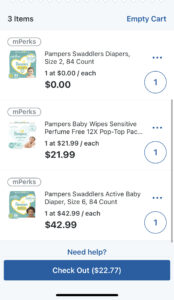 PLEASE KEEP IN MIND THAT IF ITEMS ARE OUT OF STOCK THE COUPONS WILL NOT WORK! You will either need to get another size or ask them to cancel your order and try at another store! This scenario only works if the items are in stock! Please pay attention to receipt before pickup.

This post may contain affiliate links. Read my complete
Disclosure Policy Here