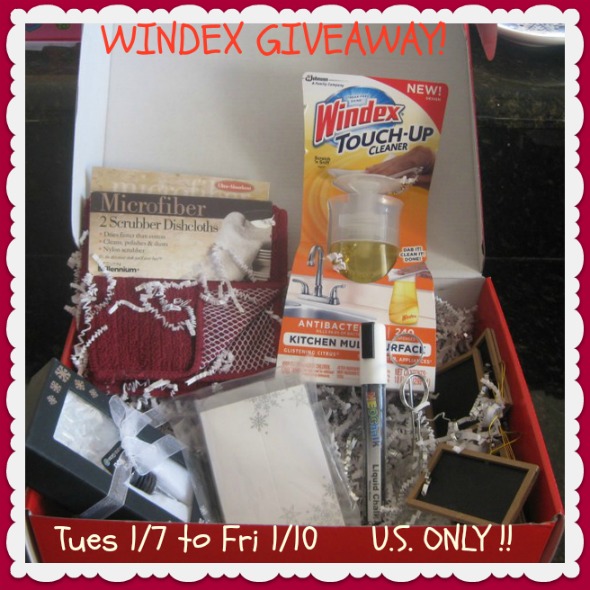 **WINNER IS . .. Kristina mills. .
Please check your email and respond by 10 p.m. tonight, 1/11**
With the holiday just ending and trying to get back in full swing, we'd like to make your life a bit easier during the cleanup, courtesy of Windex® Touch-Up Cleaner.
We would like to send one lucky fan a Windex Touch-Up gift pack, so you can easily clean and sanitize frequent messes right away without missing a beat, and add a number of finishing touches to your holiday entertaining plans. I personally have a Windex Touch-up sitting right behind my sink and use it ALL THE TIME! It's the best for quick touch ups around the kitchen or really anywhere around the house.
We also have a $1 off coupon to share with the rest of our readers to try Windex® Touch-Up Cleaner.
The Touch-Up Prize Pack will include:
1 Windex® Touch -Up Cleaner Kitchen Multi-Surface in Glistening Citrus
Crystal place card holders with decorative cards to help your guest can find their seat
Decorative wine stopper to ensure your open bottles don't spoil
Chalkboard tags with chalk pen to label all your holiday entrees. Use Windex® Touch-Up Cleaner to clean and reuse for future parties!
Microfiber scrubber clothes for cleaning up those little messes
Additional Information About Windex® Touch-Up Cleaner
Offers a fast, convenient, at-hand solution to clean both the kitchen and bathroom without slowing down your daily routine.
Comes in a small, attractive bottle that conveniently stays out where you need it so you can clean and sanitize frequent messes right away.
Kills 99.9% of common household bacteria1, and works on a variety of hard, non-porous surfaces including sinks, countertops, toilets, appliances (exterior), stovetops, sealed granite, sealed marble, glass, glazed porcelain, chrome, glazed ceramic tile, finished wood and more.
All you have to do is comment on this post (NOT ON FB, BUT ON THIS POST) and tell us what your favorite thing about the holidays was. Also, be sure to spread the word by sharing just by clicking on the share tabs below:)
*Giveaway open to US only. Giveaway ends Friday, 1/10/2014  at 11:59 PM EST.  Winner will receive prize package directly from Windex Touch-Up Cleaner!

This post may contain affiliate links. Read my complete
Disclosure Policy Here