SALAD IN A JAR
With back-to-school beginning, here is a super easy lunch that you can prepare ahead of time. We are finding this is one of our kids favorite lunches now – and it's healthy (or somewhat depending on what all they put in it).
If you prepare these ahead of time, they are good for about 5 days. A few ingredients are better to put in morning of, if you are making too far in advance. We used the large mason jars as our kids are older and the smaller ones would not fill them up enough. Our daughter, Jadyn, likes to put her's in a plastic container the morning of.
You will layer the items in the jars and here is what we have found works best:
Salad dressing: We use approximately 3-4 tablespoons
Hard vegetables: Add hard vegetables including carrots, cucumbers, and green peppers, etc.
Cheese and Proteins: Cheese, tuna fish, chicken, hard boiled eggs, etc. Only do this if you are going to use the salad within 2 days you can put these items in otherwise wait and add these ingredents the morning off and add to the top of the jar.
Softer Vegetables: Tomatoes or if you want to add fruits like strawberries.
Nuts and seeds: Next, add nuts and seeds like almonds and sunflower seeds (did you know the Dollar Tree carries Sunflower seeds?)
Salad Greens: Lastly, fill the rest of the jar with salad greens. We use both shredded lettuce as well as romaine mix. You can also firmly pack this, if you would like.
Storing the salad: Screw the lid on the jar and refrigerate for up to 5 days. Again, remember if you not using for 3 or more days, include any cheese or soft fruits and vegetables, add these to the top of the jar the morning of.
Eat: You can either shake the jar and eat the salad right out of it, or pour it in a bowl. Here is a picture of what it looks like when you pour it in a bowl. It saves time and we truly enjoy meal prepping.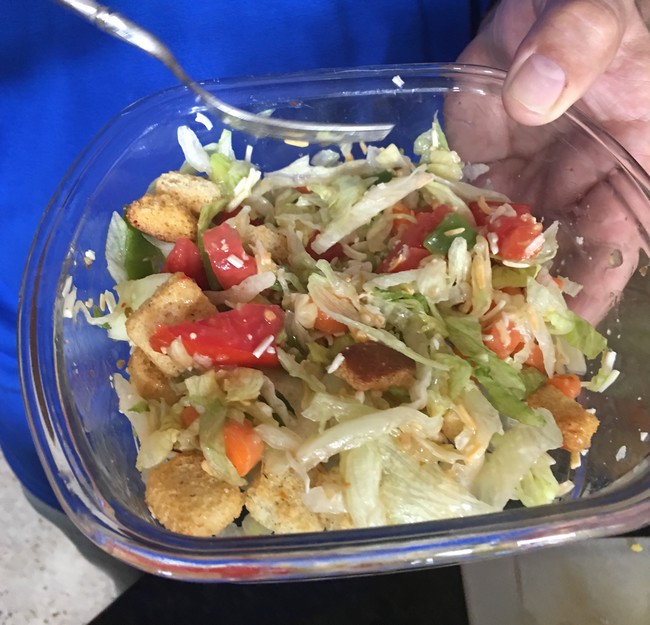 This post may contain affiliate links. Read my complete
Disclosure Policy Here