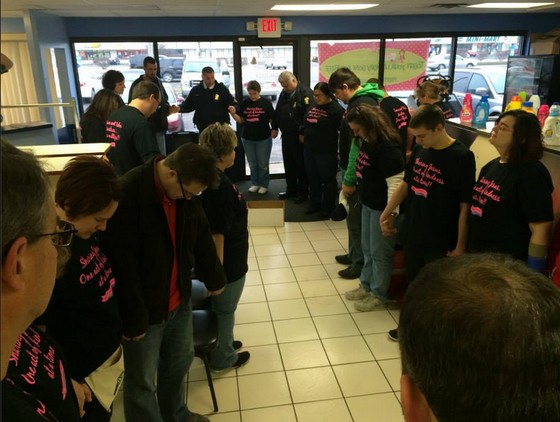 What a great day #freelaundryday was. . . As most of you know we started this last February and today was our 6th event. What we do is go into a laundromat for 3 hours and pay for everyone's laundry and provide all the supplies (laundry detergent, softener, bleach, dryer sheets, etc). Before I go into details about today I want to give a huge shout out to Reynold's Laundromat, Matt and Kristi Rasor (owners), and their staff, Josh, Josh, and Josh; and yes, 3 Josh's, LOL:-) This place is a place full of LOVE and we are so thankful to have been able to partner with them. They go above and beyond to make this event perfect and we are so blessed to call them all friends!!! I could write story after story about these events and the friendships that are being formed and how blessed I feel. So much time and energy are put into these events and to see it all come together is priceless. I also need to personally thank every single person that volunteers, makes monetary donations, or prays over the event. None of this is possible without all of you, so thank you from the bottom of my heart. Danielle and Vanessa are the glue that keep it together. They come in and handle all the details. I give them the list and they just get done what needs to get done. I am so blessed to have both of them in my life. Jamie, my husband, and my kids are just amazing. They all work so hard and I love to watch them at work, loving on others. Sargent Tony and Officer Jim keep us safe, but more importantly they are both family now. I cannot imagine these events without them being there. To watch them interact and talk to people is priceless.
Today, we were able to do 49 loads of laundry and it all started with Ms. Theola who was next door getting her hair done.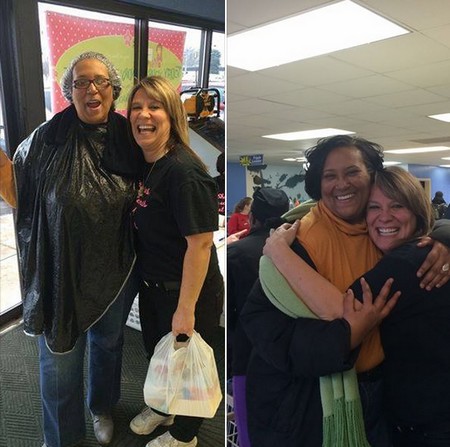 She stopped in to see what was going on and we told her and she made some calls to her family and from there it took off. Check out her before and after pictures, LOL 🙂 Honestly, I love the entire day, but I think my favorite part is watching the interaction between everyone. People loving on each other, laughing, watching hands touch hands, and who thought doing laundry could be so much fun?!


God wants us to serve in all capacities and I cannot think of a better way to serve than by doing others' laundry for FREE and loving on them. We had so many volunteers today and it was AWESOME. So many new faces and so many that have helped at almost every event. So thankful that Robin brought her granddaughter today and watching all the kids become friends and interact.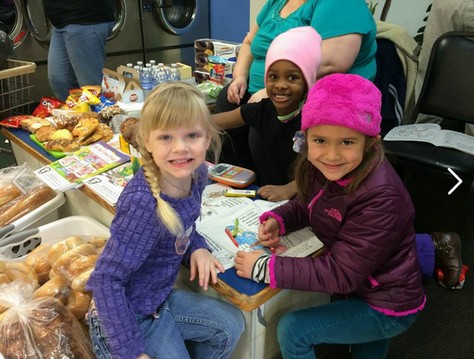 The best part is there was every nationality today, but when we are in those walls, there is no color barrier; the walls are full of a love that only comes from Christ. So excited that Andy (a new follower of the page) showed up and donated 4 bottles of fabric softener and was able to stay and volunteer. Just so neat to watch so many stepping up to be a part of serving and doing God's work. God is doing amazing things in our community and it is cool to sit back and watch it all unfold. He doesn't call the equip, rather he equips the called.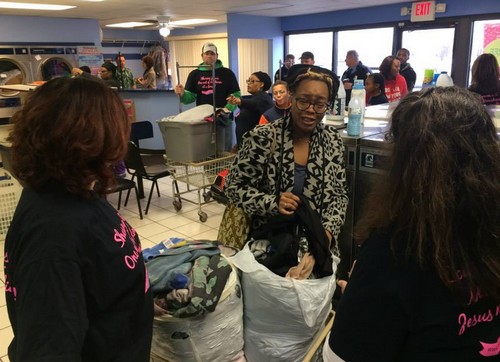 God placed serving on my heart at the age of 5 and I will continue to serve until I take my last breath. I want others to see Jesus through me and my family. I want others to know they matter, they are special, they are masterpieces created in God's image. None of us can help everyone, but all of us can help someone, and when we do, we serve today. Today, I am certain God was glorified and I am thankful to each and everyone of you. If you are local, I ask you to please support Reynolds Laundromat. They are God loving people and they will take good care of you. Let's stand together and support these places that are helping change our community. Our next #freelaundryday is February 24th and we are hoping at that event to hit the milestone of 1000 loads of laundry done with LOVE. May you all be blessed today. Love you guys so much!!
GOD IS GOOD. . . ALL THE TIME!!

This post may contain affiliate links. Read my complete
Disclosure Policy Here