6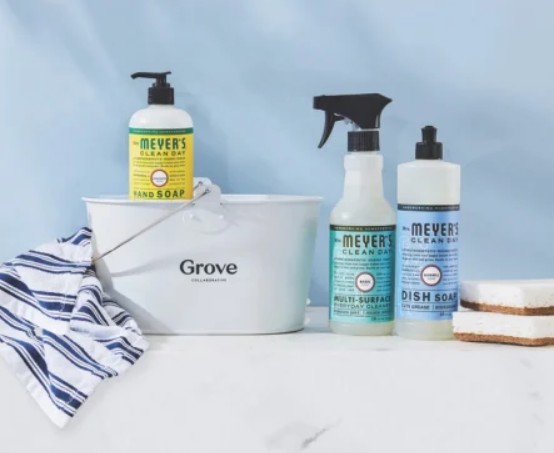 It's a great time to order from Grove Collaborative!
Here is a gift idea for those hard to buy people on your CHRISTmas list. I LOVE to use green cleaning products and this deal is too good to pass up.
Ordering from Grove Collaborative is like getting a care package full of all-natural home, beauty, and personal care items delivered directly to your doorstep! Even better, Grove Collaborative is offering a FREE Mrs. Meyer's Holiday Cleaning Set AND Bonus Gift (over $33 combined value) with your first order of $20 or more!
Here is what will be included in your Cleaning Set
Mrs. Meyer's Dish Soap, 16 oz ($5.30 value)
Mrs. Meyer's Multi-Surface Spray ($5.30 value)
Mrs. Meyer's Hand Soap ($3.89 value)
Grove Walnut Scrubber Sponges $3.95 Value)
Grove Collaborative Cleaning Caddy ($14.95 value) – available in several colors!
FREE Shipping & VIP Trial!
Their 100% Happiness Guarantee allows you to return anything at ANY time, for ANY reason – so it's a fun and risk-free way to try new products. I have been 100% satisfied with all of their products. One of my favorite products is their Grove Tub & Tile Cleaner.
These are all eco-friendly products!

This post may contain affiliate links. Read my complete
Disclosure Policy Here