A personal favorite of mine, Hello Bello, is offering New Customers 25% OFF on their bundles, and a FREEBIE of your choice + FREE SHIPPING! All for ONLY $49(Reg.$65)
These diapers lock in wetness so you can easily use them for day and night diapers!
Head on over to Hello Bello, click the START BUNDLING button, and choose your baby's size. If you need more than one size you have the option to split sizes. You just need to click the box "Want two different sizes."
WHAT IS INLCUDED IN THE HELLO BELLO DIAPER BUNDLE?
7 Packs of adorable diapers( Choose up to 7 different designs)
4 Packs of wipes (60-Count Each)
One Freebie of your choice
+ Receive an additional 15% off 5 additional products of choice, on your FIRST order.

HELLO BUNDLE: $65

FINAL PRICE: $49 + FREE SHIPPING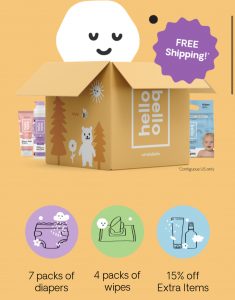 IMPORTANT: Your next bundle will ship in 4 weeks, but feel free to cancel at anytime!


This post may contain affiliate links. Read my complete
Disclosure Policy Here