If you have ever gone to Olive Garden for the unlimited soup and salad, chances are you've tried the Pasta Fagiola. It's like an Italian version of chili. So hearty and delicious. This soup has a combination of beef, vegetables, beans, and pasta. The salad and bread sticks are the only thing missing.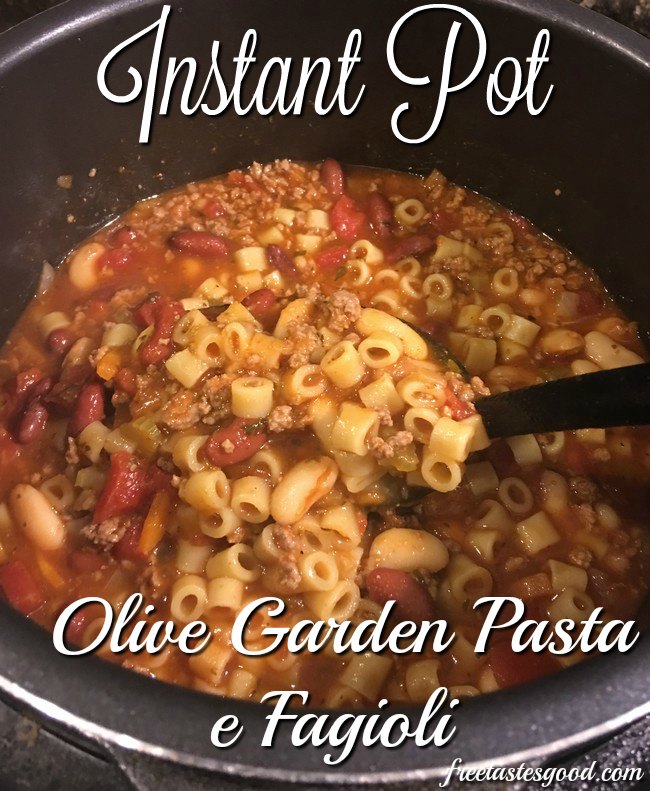 Instant Pot Olive Garden Pasta e Fagioli Soup Copycat Recipe
The recipe for this one makes a lot. There is very little prepping to this, just browning your burger on saute, and chopping your veggies. I found the carrots are best shredded in the food processor. If you don't have one you can buy them already shredded or run carrot sticks across your cheese grater. My feeling is a little extra TLC goes a long way when preparing a delicious soup.
The biggest thing to remember for this meal is to do the QR (quick release) as soon as it beeps so the pasta does not overcook and become mushy.
Serves 6-8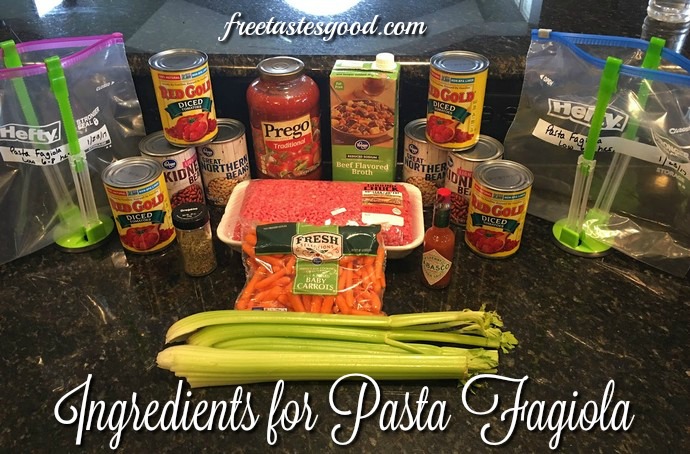 Ingredients
1 pound cooked ground beef (90/10 works best)

2 Tbls Olive oil

1 cup carrots, chopped

2 celery stalks, sliced

1 small onion, diced

1 14.5 oz cans diced tomatoes

1 can kidney beans,

drained and rinsed

1 can white cannellini beans, drained and rinsed

2 cans (14 oz) beef broth
2 tsp parsley

2 tsp oregano

2 Tablespoon Tabasco Sauce (optional)

Salt and Pepper
1.5 cup dry Ditalini pasta (uncooked)
1 24 oz Pasta Sauce (or you can use homemade sauce)
Instant Pot Directions
Add olive oil to pot and press saute. When hot, add ground beef and saute until brown.
If necessary, drain the fat and add onion, celery, carrots deglazing (scraping bottom of pan)
Add beef broth.
Add all spices, diced tomatoes, and beans, stir.
Add Ditalini pasta (uncooked) and cover with pasta sauce. Do not stir.
Put on lid and cook on manual pressure for 5 minutes

When IP beeps (done cooking) use the QR (quick release so pasta stops cooking) until all pressure is released.

Open lid when all pressure is released (Silver button will drop) and stir.

Serve immediately
Serve with a nice salad and garlic bread sticks.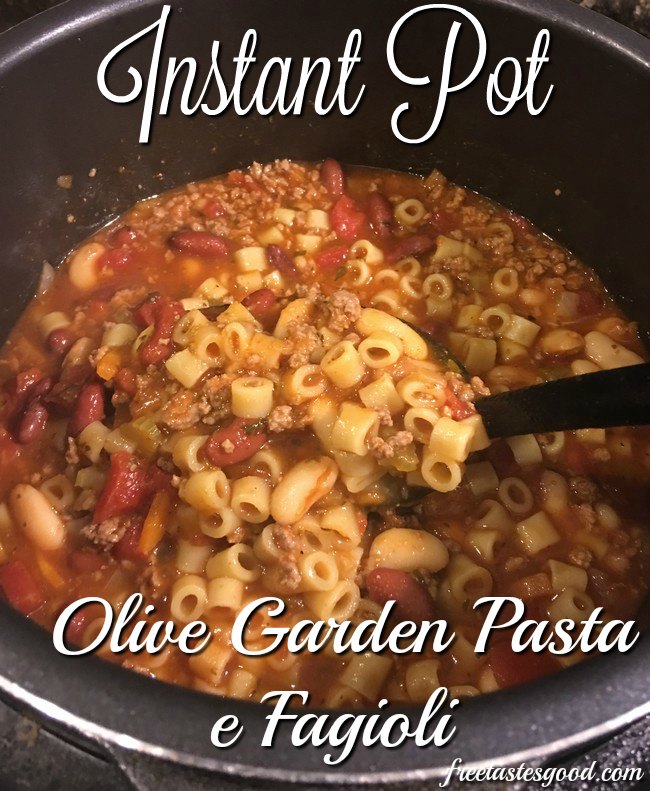 Here are some other awesome things about pressure cooker meals:
Reduces cooking time by 70%.
Make sure you stay out of the way of the steam when you release the pressure.
Less dirty dishes, because it is all prepared in the same pan.
Have you ever frozen a meal for your crockpot before? Please share your thoughts in a comment below!

This post may contain affiliate links. Read my complete
Disclosure Policy Here