Chewy is offering 30% off your first Autoship Order.You must select Autoship during checkout and the discount will automatically be applied. There is a maximum discount of $20.
Chewy is also offering 25% off when you spend $50 on select items!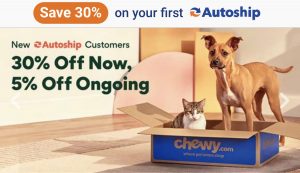 You are able to stack both of these deals but please note that the 30% Off your first Autoship will only count on items that are not included in the spend $50 get 25% off.
THE STACKING WILL NOT WORK ON THE BOGO 50% OFF. It only works with the 30% off First Autoship and Spend $50 get 25% off.
We are constantly using Chewy.com in our house because they have a lot of good deals! We have multiple cats and a dog and we can always find great deals on food and toys! They also send birthday cards to your pets! Chewy makes your experience very personable!
You can cancel your Autoship at anytime and still receive the 30% off your first order!
HEAD ON OVER TO CHEWY AND CHECKOUT WHAT THEY HAVE

This post may contain affiliate links. Read my complete
Disclosure Policy Here