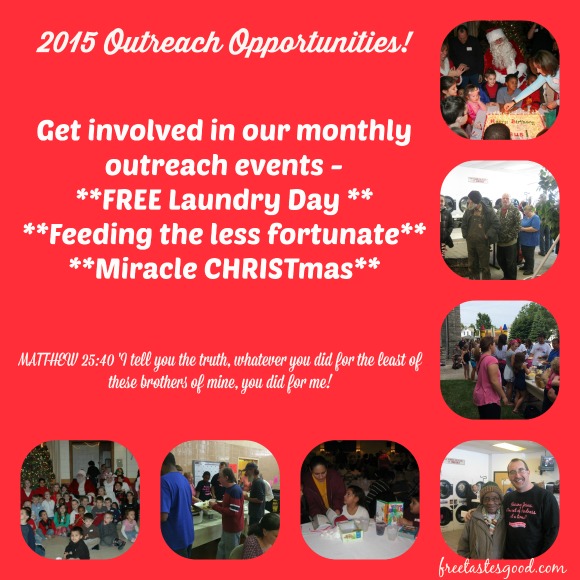 OUTREACH OPPORTUNITIES – 2015!!
If you have been following the blog for long, you know we provide a monthly meal for the homeless/less fortunate and we also started a FREE Laundry Project, where we go to local laundromats and provide FREE Laundry for families in need. It has become a cool thing watching God at work and lives impacted. We have the 2015 Outreach Opportunity Schedule. Each month, I will post a sign up sheet for the events. For the meals I am just posting the main dish, but we always provide a large selection of side dishes for each meal. We are also always in need of monetary donations to help with the outreaches. All donations can be made via our Miraclechristmas.com site and just click on the "donate now" tab and donate (or click on link below)- we need to raise $15,000 to provide all these outreaches for 2015. I have several that have signed up to have a certain amount donated monthly. This is such a huge blessing that we appreciate so much. Remember none of us can help everyone, but ALL of us can help someone, and when we do, we serve Jesus!! We can do this together!!
We have also set up a Gofundme account that you can click link below and make a donation via GoFundMe! Thanks for considering 🙂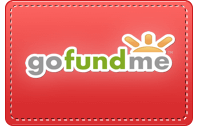 Below are the dates:
January:
18th – Monthly Meal – Unstuffed Cabbage Rolls and Kielbasa
24th – FREE Laundry Day – Reynolds Laundromat
February:
15th – Monthly Meal – Pot Roast
March:
7th – Free Laundry Day – Super Suds, Alexis Road
15th – Monthly Meal – Ham and cheesy potatoes – Easter theme (Will hand out 100 Easter Baskets and 150 care packages)
April:
19th – Monthly Meal – Meat Loaf
May: No meal/no laundry
June:
6th – FREE Laundry Day – Reynolds Laundromat
21st – Monthly Meal – Lasagna/Italian Theme
July:
19th – Monthly Meal – Pork Chops and Rice
August:
16th: Monthly Meal – Community Back-to-School Picnic
September:
27th- Monthly Meal – Smothered Chicken and red potatoes
October:
2nd – Lunch – Taco Bar
11th – Hamburger stroganoff (Will hand out 100 Halloween Goodie Bags for the kids)
November –
6th – Lunch – Italian (Spaghetti, Lasagna, Fettuccine)
7th – FREE Laundry Day – All Wash
22nd – Thanksgiving Dinner (Will hand out 150-200 care packages)
December –
4th – TBD
20th – 18th-annual Miracle CHRISTmas (helping 20-25 kids) – $6,000 needed to fund this 🙂
20th – Monthly Meal – Ham and all the fixins
Below is a list of how much it costs to put on each event for the year:
Feeding the Homeless: $4000
FREE Laundry Project – $5000
Miracle CHRISTmas – $6000
Total: $15,000
We appreciate all the support & prayers we have received and have been so blessed to meet so many of the volunteers, and get to know so many of you personally. Thank you so much for your continued support. We would appreciate all the prayers for the 2015 outreaches as well. May God be glorified in all that we do! These are all cool ways to give back and be the hands and feet of Jesus. Love you guys!

This post may contain affiliate links. Read my complete
Disclosure Policy Here