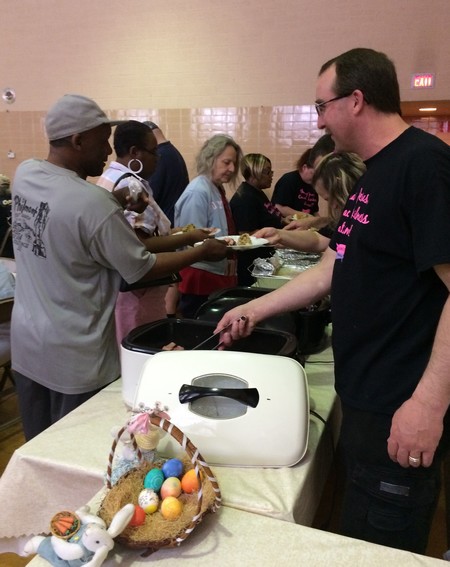 **FAMILY-FRIENDLY OUTREACH OPPORTUNITY **
**WE STILL HAVE HUGE NEEDS, PLEASE CONSIDER HELPING**
We need your help to make up a food item, fill a backpack, volunteer, or make a monetary donation, and most importantly please pray for God to be glorified 🙂
We are so excited to announce that we will be doing our monthly feeding the homeless/less fortunate, but for August, we will be doing an outdoor picnic.  This will still be held at St. Lucas Church, 745 Walbridge, Toledo, OH, from 4 to 5:30.  We will be cooking out, giving away backpacks (families will be signing up with St. Lucas Church Children's Program), and we will also have a bounce house, and possibly a visit from Muddy the Mudhen.  We received a permit to block off Frank Street so the picnic will ALL be outside.  In addition, we have had to hire 2 Toledo Police Officers ($75 for each one so a total of $150).  We did this just for safety reason.  We are in need of much food, backpacks, volunteers, etc.  If you cannot make a dish, please consider making a monetary donation, we need to raise approximately $500 to make this happen.   We anticipate our attendance being higher since all the neighbors will be able to smell the delicious food we are cooking out and they will see we are having a FREE, FUN event.  Due to that, we will also need more volunteers.  We have had many say they cannot help due to summer being so busy and we appreciate that and completely  understand, but please remember, people are still hungry in the summer so any help you can give is greatly appreciated!! This is for the entire family so feel free to bring your children.  We have a  sign-up sheet for all item that we need.   PLEASE READ CAREFULLY THE NOTES BESIDE EACH ITEM YOU ARE SIGNING UP FOR SO YOU PROVIDE THE CORRECT QUANTITY NEEDED!! ALSO, ANYONE THAT SIGNS UP TO VOLUNTEER, WILL ALSO NEED TO BRING AN ITEM FROM THE LIST DUE TO LIMITED RESOURCES.  We need all the food to be brought in the 1/2 size aluminum pans (Standard 9 x 13 and approx. 2″ deep) or you can bring a full size sheet pan.  Please make sure they are completely full as that is what we are basing the portion sizes on. To sign up for the items you want to bring Go HERE!! If you want to sign up for multiple items, please feel free to do that. We need all items at the church by 3 p.m.
If you are willing to fill a backpack, please add your name to the list HERE including your email address so once we have names, ages, how many boys, girls, etc, or feel free to do up a generic back pack 🙂
Please note we are unable to pick up food items, so please only sign up if you are able to drop them off at church:)  All items also need to be fully cooked pleased.   The link above should take you directly to the sign-up sheet. Also,
If you would like to make a monetary donation visit the Miracle CHRISTmas website and click on the "donate" tab for a secure paypal donation or you can send monetary donation to:

Free Tastes Good
PO Box 312
Syvlania, OH  4356
Thanks for helping us feed the least of these ~ MATTHEW 25:40 If you are willing to help the day of the event, please sign up also – that section is at the bottom of the sign-up sheet! We will need many to stay afterwards to help us clean up please. Thanks for continuing to be the hands and feet of Jesus!! This is such a cool outreach and I am really excited about this!!  You guys are simply amazing!
GOD IS GOOD. . ALL THE TIME!!

This post may contain affiliate links. Read my complete
Disclosure Policy Here