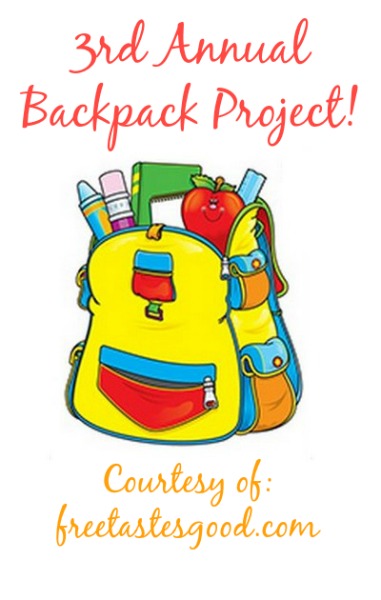 3rd-ANNUAL BACKPACK PROJECT!!
There are so many people hurting financially right now that we thought we would take a survey and see how many are interested in the backpack project again this year.  This is a great opportunity for many of us to help each other out from the blog and facebook page. Last year we were able to fill 118 backpacks.  We are still in the early stages. The receiver would be matched with a family and fill one backpack of supplies from the receiver child's school list and send it to them or you can mail them a gift card for them to purchase the items.  The receiver would receive the backpack filled for one of their children.  WE ARE ONLY FILLING 1 BACKPACK PER FAMILY THIS YEAR AND ONLY GRADES K-5 and you MUST have a list from the school your child is attending (absolutely no EXCEPTIONS) !!
Please note we will make a decision by July 15th if there is enough interest in doing this again this year once we have all the questionnaire information.
There are a few stipulations this year and here is the list (please read carefully)
You MUST have your school supply list (from your school and we will verify – ABSOLUTELY NO EXCEPTIONS)
We will ONLY be doing 1 backpack per family
We are only doing grades K -5
You will be matched with a family and once you are matched, you will be communicating with them only. Once I have you assigned, I no longer will be involved (last year I spent over 100 hours with all the communication and cannot make that commitment this year so it is your responsibility to communicate w/your family)
For everyone who is matched will a family I will send out emails Tuesday, July 15 and how everyone needs to proceed.
We are doing our best to match you with a person in your city/state, but sometimes that is not possible and you may have to mail the items (that is an additional cost to the giver)
For those receiving, please be reasonable in your requests to the giving family 
For those of you giving, please pray for your family.
You MUST FILL the form out by Sunday, 7/13, at Noon or you will not be considered (absolutely no exceptions due to time constraints)
I think this is such a cool way for us to get to know each other and share our blessings with others and super cool that we can help each other out. We all follow this blog and FB page, but now is an opportunity to help our fellow couponing family out. I have a short survey to fill out.
Each family will be matched with a family (giver and receiver) and then you can contact each other that way and send the backpack full of school supplies for each child.  Once you are matched, I will no longer be involved.  It is your responsibility to stay in contact with each other.  Such a super cool way to be the HANDS AND FEET OF JESUS in such a tangible way.
If you are interested in being a giver or receiver, please fill  the short survey out (link provided above). If you DO NOT FILL OUT COMPLETELY, your name will be removed from the list, so please read carefully:)  Please  prayfully consider getting involved. Also, you will need to respond to the e-mail that I send out no later than Tuesday, July 15 at 10 p.m. If you do not respond, you will be removed from the list. . thank you!!!

This post may contain affiliate links. Read my complete
Disclosure Policy Here