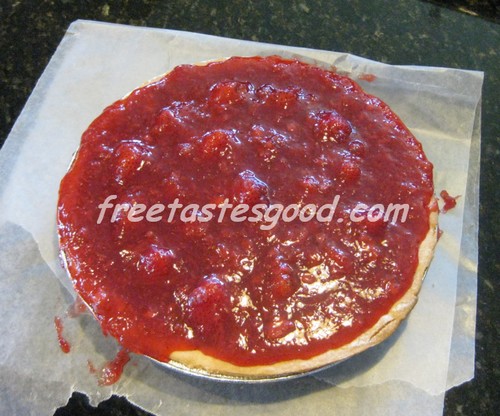 I love strawberry pie, but this pie is by far the best strawberry pie I have ever made!! I made 2 for my husband to take to work and then one for home and it is absolutely delicious. It is super easy to make too:)
Strawberry Supreme Pie
INGREDIENTS:
1 cup sugar
3 tablespoons cornstarch
2 pints fresh strawberries, washed and hulled, divided
3 tablespoons strawberry gelatin
4 ounces cream cheese, softened
1 (9 inch) baked pie shells
cream, for garnish
Directions
1. Combine sugar and cornstarch; set aside.
2. Crush (don't puree) one pint of berries in blender or with potato masher,
and add enough water to make 1 1/2 cups.
3. In saucepan, bring crushed berries to a boil over medium heat, stir in
sugar and cornstarch all at once. Stir constantly until thick and clear.
4. Remove from heat and add strawberry gelatin. Stir until gelatin is
dissolved. Set aside.
5. Mix cream cheese and 1 tablespoon of hot cooked berries; spread mixture
over baked pastry shell.
6. Stand the uncooked whole berries, stem end down, on top of cream cheese.
7. Pour hot cooked berries over whole berries.
8. Refrigerate until set, about 3 hours.
9. Garnish with whipped cream and serve.

This post may contain affiliate links. Read my complete
Disclosure Policy Here