VALENTINE'S MINIONS PARTY TREATS & PRINTABLE CARD
Believe it or not, I do have a creative side to me and do more than just coupon 🙂 Our kids love to make up special treats for their parties and we thought this would be a fun one to do for Valentine's Day. These tasty treats are cute and easy to make. You will need yellow melts, marshmallows (we used the campfire size and the large ones), candy eyes, sucker sticks, black frosting or gel frosting, blue fruit rollups, treat bags, and blue and yellow ribbon. We also included this very cute Printable Minions Despicable Me Card that we specially designed for this snack.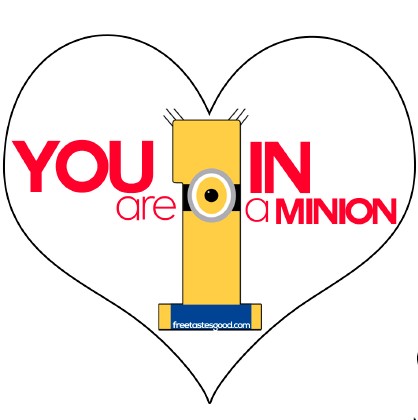 You will first slowly melt the yellow chocolates either in the microwave or on the stovetop. Once they are completely melted, place the marshmallow on the stick and dip it into the melt until fully covered. You can use a butter knife to smooth the chocolate and remove the excess. Add the blue fruit rollup to the bottom and the eye(s) while the chocolate is still soft. It will take about 5 minutes for the chocolate to set. Once it has set, you can add the frosting for the face and around the eyes.
These Minion treats could be used for any party. I am thinking about making them up for our FREE community dinner to hand out to the kids. You can substitute the Twinkies for the marshmallow and chocolate. I love the message of the card, it makes everyone feel special.
As with any treat, include the kids, be creative, and just have FUN 🙂 Remember our kids are only little for a short time so enjoy every moment with them!
Subscribe to our daily newsletters by CLICKING HERE to stay up to date with Free Tastes Good. Also, don't forget to follow us on Pinterest , Twitter, and Instagram!!

This post may contain affiliate links. Read my complete
Disclosure Policy Here