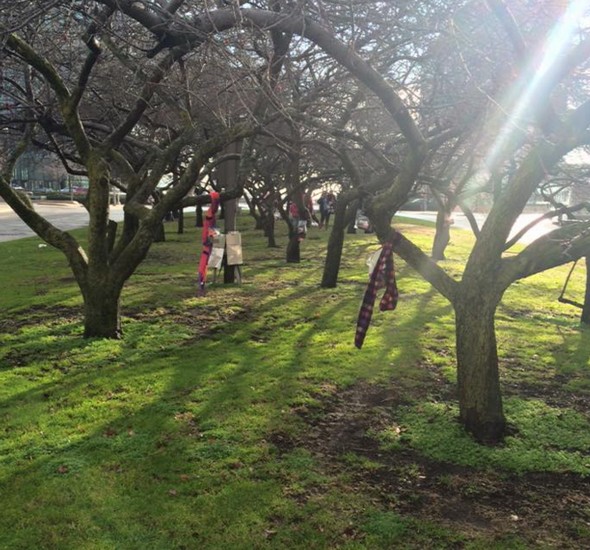 WARMING THE CITY OF TOLEDO BY TYING SCARVES, HATS, GLOVES, AND SOCKS (Socks Donated by Hannah's Socks) to trees in Downtown Toledo for our Homeless Friends! Thanks also to Carla Woodell for her wonderful donation of our cards we attached to each scarf 🙂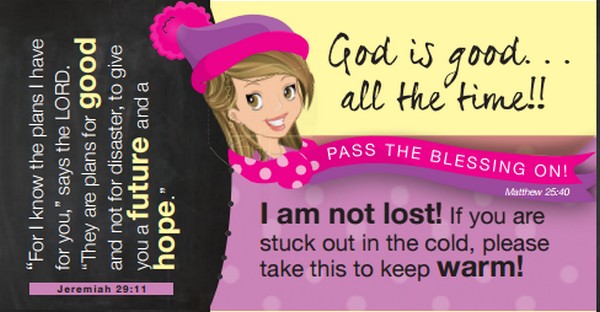 Such a fun time today. We started this project over 3 months ago but due to the unseasonably warm weather we held off until today to do it. We collected a total of 102 scarves and socks (some had hats and gloves in them also) It is amazing to see how many people gave of their Saturday to come out and help and so many brought their children. God is sooooo good!! Here is a picture of all the volunteers from today 🙂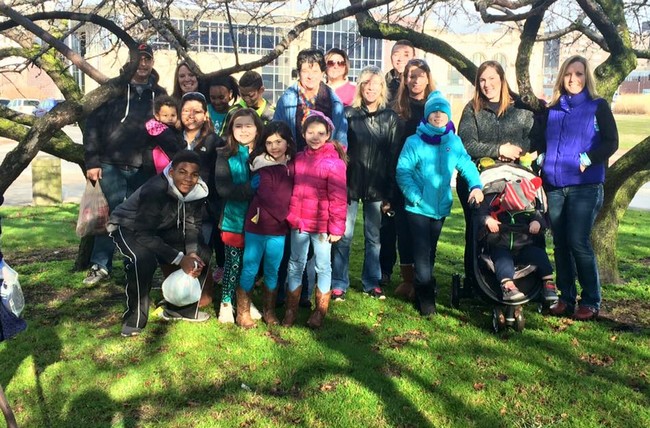 We always start any project off in prayer asking for God's guidance and for him to bless everyone that received a scarf and everyone that took time to donate, knit, crochet, volunteer, or pray over this project to be blessed. More than anything else for God's name to be glorified in all we do, because all the Praise and Glory belong to him.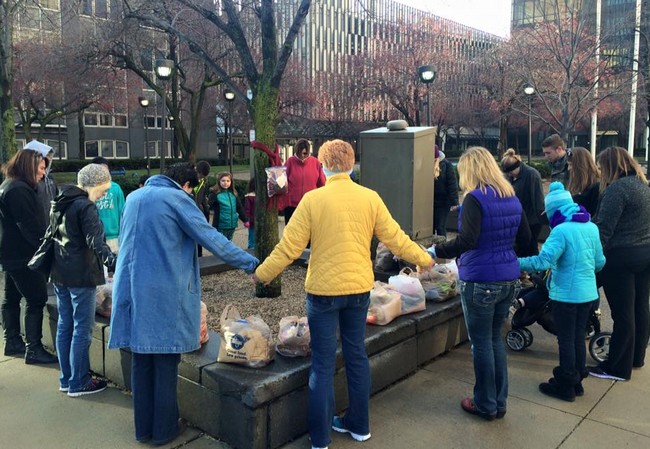 I loved watching everyone find the perfect tree to tie the scarves too, knowing as we walked around I continued to pray for everyone that will/would receive a scarf and the other items.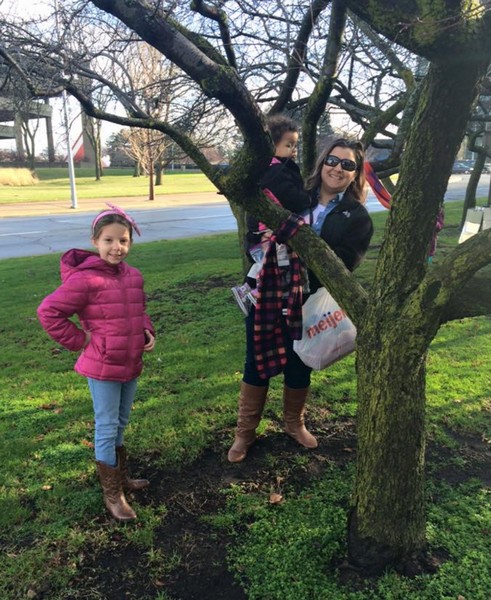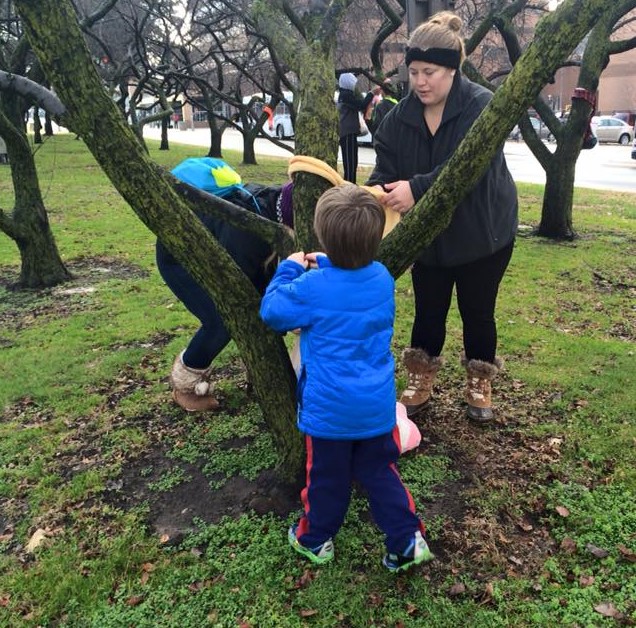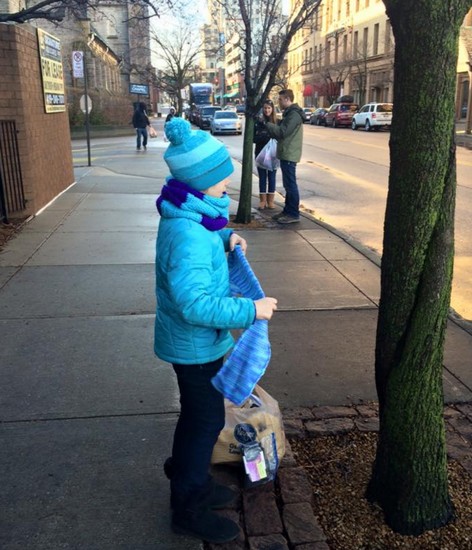 We pulled off and sat in the car and watched people taking the scarves. My heart is so happy!! It was absolutely beautiful watching. A mom walked up and took one for her son and bent down and put it on him!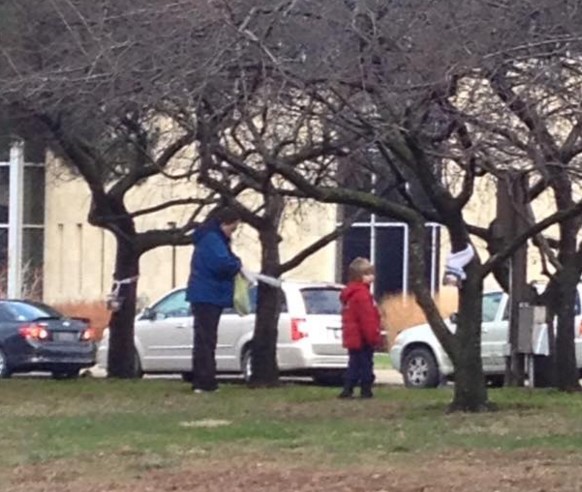 A man and 2 women grabbed one and the smiles on their face said it all. Everyone that we saw take one, went from tree to tree to find the perfect scarf probably not even realizing all of those scarves were prayed over just for them.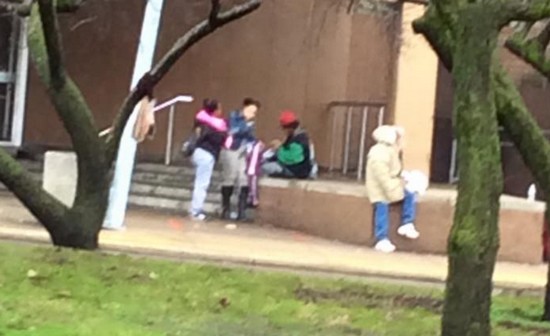 There was one man walking and looking at the pink ones (he was wearing shorts). I put my arm around him and asked if he wanted one that wasn't pink lol and he said no that's okay. Isaiah had 1 left that he had not hung because God already knew that guy was supposed to get it. When we were sitting we saw him with the scarf around him. Melted my heart. Another guy grabbed one and then went to the bus stop and was putting the new pair of socks on at the bus stop! Things that we so often take for granted. (Thank you Hannah's sock for making your generous donation)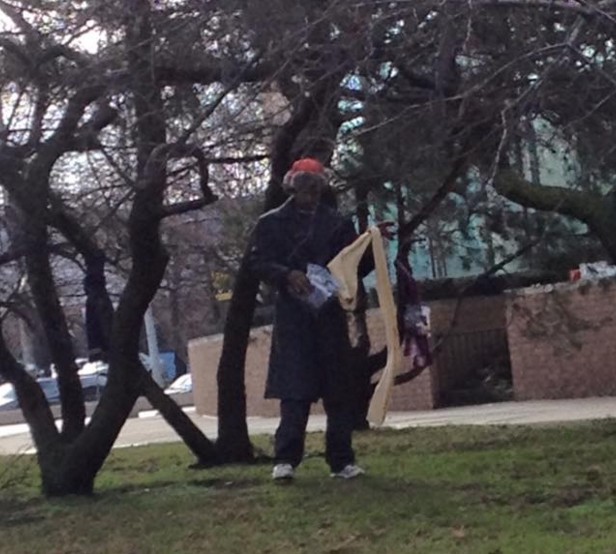 I LOVE watching God at work and how he can use each of us for HIS glory!!!! If any of you knit or crochet, please considering helping us get ready for next year!! Nancy (as pictured below) and her mom knitted several for us. We will be collecting yarn so they can start knitting already. If you are interested in making a donation, please mail to Free Tastes Good, PO Box 312, Sylvania, OH 43560 and I will get the yarn to Nancy.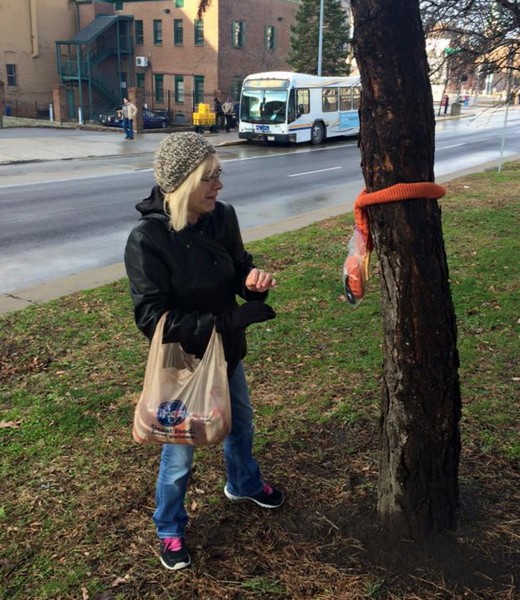 When we left, Jamie and I and the kids were talking and we originally said our goal was for 300 next year, but then I said God-sized dreams – and we all agreed, 1000 – 2000 – why think 300 when we serve a BIG God – a God that created the universe. Thank you all for your love and support – you guys are the BEST and this was a BIG success. I hope many of you will start helping us collect for next year for our 2nd Annual Warming the City of Toledo.

This post may contain affiliate links. Read my complete
Disclosure Policy Here