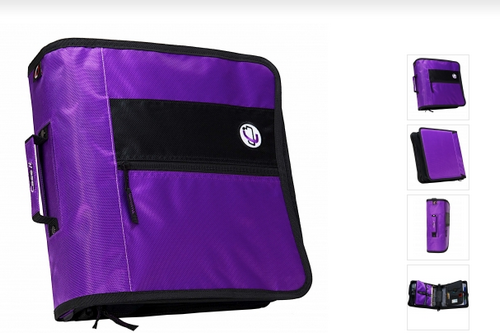 Coupon Binder
Need an easy way to keep your coupons organized while learning how to coupon?  I highly recommend the case-it Dual-500 Coupon Binder.  This has helped me with all my "extreme couponing" trips. Here is what a complete coupon binder includes:
A Dual-500 has the following features: (retails for $34.99 for JUST BINDER) 
• 3" Rings and 1 ½" Rings
• Expands to 5" of Capacity
• Velcro Secured Organizer
• Removable Pencil Case with Padded Media Pockets
• Cover Flap Protects Pen, Flash Drive, and Media Holders
• Handle and Shoulder Strap
• Ripstop Material's Square Pattern Traps Punctures to Prevent Tearing
• Guaranteed to Last the School Year
* Your ordered binder will also include:
25 baseball card sleeves
Blank clear sheets for coupon policies (see below stores)
Premade category labels * 16 Avery Tabs
Printed coupon policies to Walmart, Walgreens, Rite-Aid, and CVS
Normal shipping will be approximately 10-14  business days via USPS!!  
**UNFORTUNATELY DUE TO SHIPPING COST, WE CAN NO LONGER SHIP TO CALIFORNIA, WASHINGTON, OR OREGON ** 
**PLEASE NOTE YOU CAN ORDER, BUT WILL NOT SHIP UNTIL THE 12TH OF FEBRUARY AS THEY ARE ON BACKORDER!**
Click drop down box to pick color you want:)

This post may contain affiliate links. Read my complete
Disclosure Policy Here