I have had so many emails about this app, but I first wanted to try it out before promoting it and I give it a thumbs up so far:)
Do any of you like the Ibotta App? If so then here is another one you will want to check out ASAP. Checkout51 is similar to Ibotta (except NO Smartphone is required!), Checkout51 pays you cash when you purchase select items at your local store(s) or even online.
How does it work?
* CLICK HERE and download the Checkout51 App for FREE (available for both iTunes and Android). If you don't have a Smartphone, you can still use Checkout51 on your computer – just create an account HERE
* The great news is this app can be used in conjunction with the Ibotta app, so right now you could get $1.50 off milk ($1 from Checkout51 and $0.50 from Ibotta – HOLLA)
* You will want to check out all the available offers
* Buy items from the Offer List at ANY store (offers are available in limited quantities so be sure to check your offer list before you go shopping to ensure that the offer is still available)
* Upload a photo of your entire receipt using the app or website (Per their FAQ – it is highly recommended that you upload your receipt immediately after purchase since there are only limited quantities of offers available)
* When your account reaches $20, you can cash out and they will mail you a check
* The offers go live on Thursdays at 12AM in each time zone and they expire the following Wednesday at 11:59PM in each time zone. You must submit the receipts while the offers are live or you will NOT receive credit!!
* Items purchased from online retailers are eligible for cash back. Packing slips are accepted as proof of purchase. Keep in mind that online purchases are subject to the same submission timelines as receipts.
When I signed up for Checkout51, I was offered a Welcome Gift after I upload my first grocery receipt of $20 or more, they will add $2 to my account! LOVE IT and made my purchases this morning and already received my $3 (see below)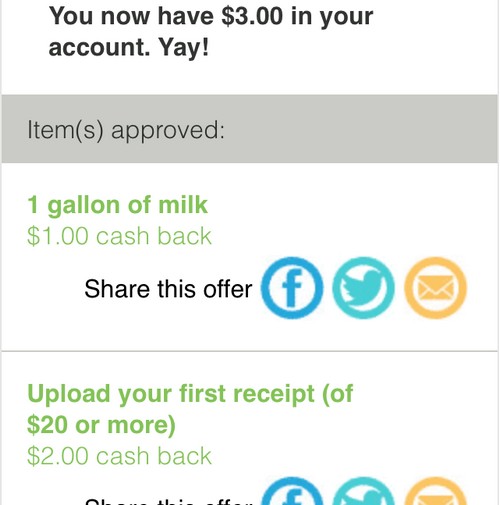 This post may contain affiliate links. Read my complete
Disclosure Policy Here