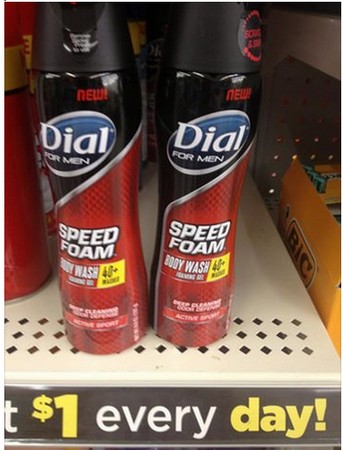 Dial Coupon
Yes, I think we have the best readers around.  Check out the deal that Robyn found at Dollar General.  We have a coupon for $2/2, which means these are FREE.  If you don't use this product, these make for great donation items to put in care packages.
Here's what the deal looks like:
**DOLLAR GENERAL SCENARIO**
Buy (2) Dial Speed Foam Body Wash – $1
Total: $2
Use $2/2 Dial Regular, For Men or Kids Body Wash, exp. 8/31/13 (RP 08/04/13 #2)
Final Cost: 2 for FREE
If you need coupons, you can order through some of these sites:
• Prilosec OTC
• TheCouponClippers!
• Or Ebay!
Photo & Deal Credit:  Robyn

This post may contain affiliate links. Read my complete
Disclosure Policy Here