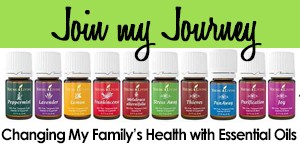 As most of you know I had my first encounter with essential oils almost two years ago and have fallen in love 🙂 I shared my story of anxiety/panic attacks. During this process and struggle God has been showing me so much about myself and my walk with him. Also weeks prior to this I had been following my friend, Heather's new journey with essential oils. I will admit I was a bit hesitant to believe all hype about the essential oils. I knew of the book Healing Oils of the Bible and thought I am going to try this and see what results I get. Most of you know I have worked in the medical field most of my life so I was very comfortable trying these.
I ordered the Premium Starter Kit and a few extra oils to get me started. The first night we diffused the peace and calming EO and I will tell you this, Jamie slept soundly. I slept so/so, but better than I had been sleeping, which was actually not sleeping at all. I ordered two more diffusers to put in our kids' bedrooms and they have all mentioned how well they are sleeping now. There is a combination you can put together for anxiety and I will admit this worked on and off. I think the problem was I waited until I was past the panic state and then tried to apply it kind of like when you wait to long to take you pain meds and it takes longer to kick in. It is also smart to apply essential oils with a carrier oil.
One of our biggest testimonies happened when Jonah, Jamie, and Jadyn all had very sore throats, felt like they were coming down with a cold. I checked in the book what to use and it said "Thieves EO". I rubbed it on their feet w/a carrier oil and diffused it last night and they all woke up feeling 100% better. I also had an upset stomach yesterday and rubbed the peppermint on my belly (again with a carrier oil) and within 20 minutes I felt better.
So for that reason, I am hooked on them now. I think of all the times we go into spas and the first thing that you remember is the smell. The Essential oils are made from God's earth and I would much rather put this stuff in my body (but I do believe in medicine too when needed). The biggest thing is to be educated about what is safe to use, etc. I am still not comfortable with ingesting any of the essential oils but many say it is okay.
ESSENTIAL OILS ARE THERAPEUTIC GRADE
What is therapeutic grade? The potential danger of an essential oil is generally relative to its level or grade of purity. Many essential oils are designed exclusively for their aroma-therapeutic quality; these essential oils generally should not be applied directly to the skin in their undiluted or "neat" form. Some can cause severe irritation, provoke an allergic reaction and, over time, prove hepatotoxic. Non-therapeutic grade essential oils are never recommended for topical or internal use.
I have a few good friends who use a brand of essential oils called Young Living so I listened to them talk about all of the amazing things that the oils were doing for their family. And I was impressed, but still not ready to join the "oil bandwagon." But the more that I read, the more that I discovered that many of the essential oils companies on the market (even some of the ones that claimed to be therapeutic-grade) weren't really giving the full story.
THE FULL ESSENTIAL OILS STORY
Almost every bottle of essential oil on the market claims to be "Pure Essential Oil", but that claim can legally be made if there is as little at just 5% of the actual essential oil from the plant in the bottle. There is also no regulation for how an essential oil is to be extracted. Companies are free to use high-heat, high-pressure, and chemical-solvents to extract more from the plants, and still slap whatever label they want to on the oil. In fact, the majority of essential oil companies buy their oils from an oil broker. The company isn't actually involved in the process of cultivating the plants or extracting the oils at all.
HOW TO KNOW THE DIFFERENCE
Here are 8 questions to ask whenever you're considering purchasing from an essential oils company (adapted from here):
Can this company guarantee that the land used to grow their plants & herbs is free of residual herbicides, pesticides, & chemicals?
Does this company own their own lab to test an oil's composition?
Does this company ever purchase oils from outside suppliers? If so, does the company visit the farms and oil distilleries to observe the process and make sure that there are no added chemicals to the distillation of the oils and that the herbs and plants are grown completely free from contamination with herbicides, pesticides, and chemical fertilizers?
Does this company only use crops that were harvested at their peak time? And if so, does the grower test to make sure that the crop is at its peak time for harvesting?
Does this company continuously monitor the process of distillation to make sure that the oils produced from the distillation contain all of the correct therapeutic components?
Can this company guarantee that oils are discarded and not sold if mistakes were made during the distillation process that affect the quality of the oils?
Does this company's oil suppliers use extra solvents during the distillation process to extract extra oil from the plants?
Can this company guarantee that nothing is added to the oils during bottling?
WHY I CHOSE YOUNG LIVING
Young Living is the only company (probably because they were the pioneers in the therapeutic essential oils market) that has their own farms, can absolutely guarantee that no pesticides or herbicides were used in the growing of any of their oils (they guarantee absolutely no pesticides and they do all of the weeding by hand), has their own testing equipment (they do both in-house and 3rd party testing), only uses the first distillation of oils instead of adding chemicals to get more out of the plant, and basically answered all of my 8 questions in a way that I felt comfortable with.
Young Living also was the only company that was directly in charge of essential oil farming operations. Every other company I researched goes through some kind of an "oil broker" to buy their oils. They have to trust the oil broker that the farmers that he/she buys the oils from can be trusted to do what they are saying they are doing.
With Young Living, you just have to trust one company instead of several.
I feel like it's a trust step either way (anyone could be lying) but I felt the most comfortable trusting Young Living since I had a few friends who had actually been to the Young Living farms and seen first-hand exactly how the plants were grown and the oils were distilled.
I also loved that I could just sign up and get the member discount (24%!) and not have to sell anything to anyone (after my Cutco knives experience back in 1998 I told myself I would never do sales again… it seems that everyone I talk to either had a "Cutco experience" or knows someone who has!) All I had to do to keep getting my discount was to buy $50 worth of products per year. Yeah, that was definitely doable since I use essential oils for so many things!
HOW I USE THE OILS
I bought the premium starter kit and I'm super glad I did! Not a day has gone by since I got my oils that I haven't used them.
Here are a few of my favorite oils in the starter kit.
Thieves essential oil blend –
1. Supports healthy immune function.*
2. May contribute to overall wellness when taken as a dietary supplement.*
3. Contains Eucalyptus Radiata essential oil, which may help maintain a healthy respiratory system when taken as a dietary supplement.* (Thieves, Eucalyptus Radiata)
4. Includes the naturally occurring constituent limonene. (Lemon, Eucalyptus Radiata, Rosemary)
5. Includes the naturally occurring constituent eugenol. (Clove, Cinnamon)
6. Includes the naturally occurring constituent eucalyptol. (Eucalyptus Radiata, Rosemary)
7. Includes Clove, which was used traditionally as a spice for flavoring food.
8. Add to food or beverages to enhance the flavor. Add a drop to hot drinks to add a spicy zing. (Clove, Lemon, Cinnamon, Rosemary)
9. Add 1 drop Thieves to 2 drops Orange essential oil as a refreshing flavor to complement your favorite beverage.
10. Add 1 drop to a cup of warm water as part of a wellness regimen.
Peppermint essential oil –
1. Supports gastrointestinal system comfort.*
2. Promotes healthy bowel function.*
3. Enhances healthy gut function.*
4. Maintains efficiency of the digestive tract.*
5. Supports normal digestion.*
6. May support performance during exercise.*
7. Is a key ingredient in DiGize™.
Panaway essential oil blend –
Apply topically after exercise.
Supports the appearance of healthy skin coloration.
Add to V-6™ Vegetable Oil Complex and apply to neck and back for a soothing aromatic experience.
Has a stimulating aroma.
Includes the naturally occurring constituents of methyl salicylate, gamma-curcumene, menthol, and eugenol.
There are SO many ways that you can use just the oils in the starter kit. (Click on the image below to make it larger.)
Even my kids grab the oils now. Jadyn loves the Valor and Joy. Josiah puts the Joy over his heart in the morning. Jamie loves the Joy diffusing throughout the house during the day 🙂 Did you know frankincense can be used for healing acne spots, healthy-looking skin, and even peace & calming before bed instead of taking melatonin?!
HOW TO BUY YOUNG LIVING OILS
There are a few different options. You'll likely want to choose the wholesale member option when you sign up so that you'll get the 24% discount (if you just choose "Customer" then the prices are retail prices). Once you fill out your information you will need to pick an enrollment kit. Here's a little rundown of the different starter kits available: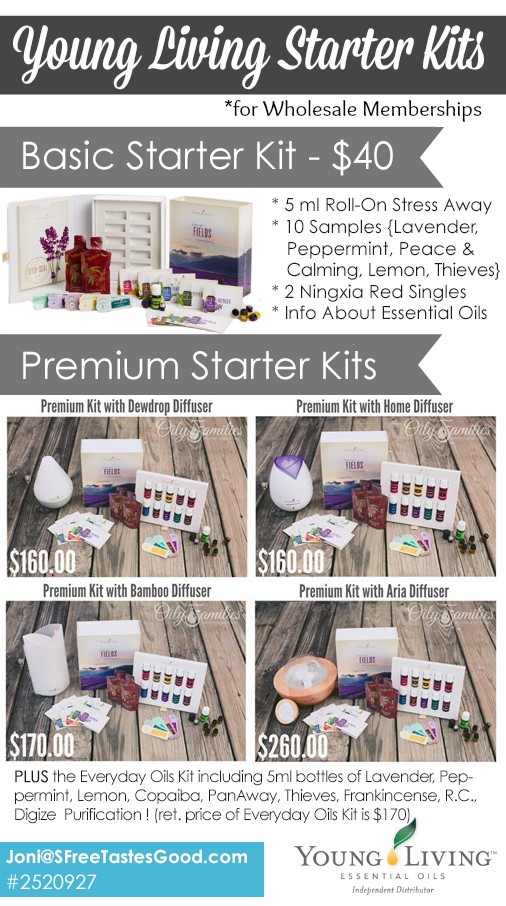 I would strongly recommend starting with the Premium Starter Kit. It's BY FAR the best value, as it includes 11 oils to try out (frankincense, lavender, peppermint, lemon, PanAway, Purification, Thieves, Copaiba, Digize, R.C. and Stress Away). You get your choice of diffusers, and the total retail value of the kit is over $300! And, just because I'm nice like that (and because I really believe these oils are life changing), if you sign up here at Free Tastes Good , I will throw in even more freebies–essential oils reference materials and a set of bottle labels!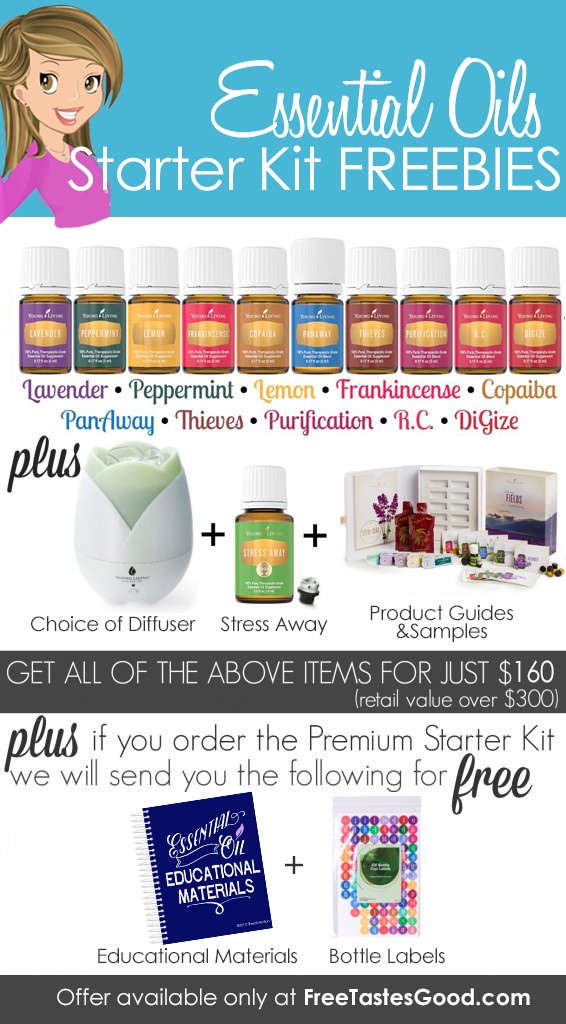 HERE'S HOW TO SIGN UP:
1. Head over to the Young Living page here and fill out your information. It only takes a second, I promise!

2. BE SURE the "Wholesale Member" option is checked so that you don't end up paying retail prices.

3. BE SURE the "sponsor ID" and "enroller id" say 2520927 (This is so that I can send you your AWESOME freebies!!)

4. If you do not feel comfortable putting in your social security number (this is only for tax purposes if you decide to turn this into a business) then you can get an EIN from the IRS in just a few seconds here and use that number instead (the IRS just needs to be able to connect some number with you for tax purposes). They need a Social Security Number or an EIN because if you make $600 or more per year selling Young Living products, you will receive a 1099 form in the mail (which is required by law). Young Living will never share this info with anyone.

5. Select which starter kit you want to get. My recommendation would be the Premium Starter Kit (and that's the one where you get all of the freebies!) Those are the oils that I use almost every single day! You can get the kit that's $160, or you can get a kit for $170 with an even nicer essential oil diffuser!

6. I'd recommend skipping the Step 3 (Optional) part of the sign-up process. I'll send over an email with more details on that part of things after you sign up (if you're going to be purchasing products monthly then it's a great program that will give you credit back with each order and save you on shipping costs).

7. Go through the checkout process. Young Living accepts most major credit cards, including Visa, MasterCard, Discover, and American Express.

8. BONUS STEP–Completely Optional! If you would like to earn 2 bonus oils this month, then get your order total up to 190 PV (different products have different point values). You could get the Start Living With Everyday Oils kit and automatically have 100 point value… then you'll just need 90 more points to get the bonus oils. For example, you could grab an extra bottle of Thieves Oil at 33.75 points, 15 ml bottle of Lavender at 23.5 points, 15 ml bottle of Lime at 11 points, and the 14.4 ounces of Thieves Household Cleaner at 22 points (just pour one capful of the concentrated Thieves cleaning solution into a spray bottle and it lasts for a really long time!) All of those items will bring your total points up to $190.25 which will qualify you to get the two BONUS oils! (This step is completely optional!)
FREQUENTLY ASKED QUESTIONS:
DOES SIGNING UP MAKE ME A "DISTRIBUTOR"?
Nope! You are not required to sell anything at all to anyone. When you become a wholesale member, you get a special link that you can share with friends and get credit from their purchases, but there are no minimum sales amounts at all. In fact, 90% of the wholesale members in Young Living don't do the business side at all. They are buying from Young Living because of the quality alone.
AM I REQUIRED TO MAKE A MINIMUM PURCHASE EACH MONTH?
There are absolutely NO minimum monthly purchase requirements. To remain a wholesale member, you have to make $50 worth of purchases per year to keep your membership. But if there's a year that you don't make a $50 purchase, you can reinstate your wholesale membership discount by just placing a $50 order. If you do find yourself making regular purchases each month, then Young Living has a rewards program (called Essential Rewards) where you can make a nice percentage back in product credit each month on all of your purchases. So that's a neat program to join if you find that you *want* to purchase regularly (but it's not a requirement for being a wholesale member).
WHY SHOULD I BUY FROM YOUNG LIVING INSTEAD OF OTHER ESSENTIAL OILS COMPANIES?
It does seem like a new essential oils company pops up every day, doesn't it? I can't speak to the quality of other companies, but I can say that Young Living was the only company in my research of essential oil companies that could answer all of my questions about purity in a way that was satisfactory to me. Young Living was the only company that has their own farms (in the regions where the plants should be grown), could absolutely guarantee that no pesticides or herbicides were used in the growing of any of their oils (they use essential oils for pest control and they do all of the weeding by hand), has their own testing equipment (they do both in-house and 3rd party testing, and use many different testing methods not just GC/MS which only tests for certain chemicals, not whether those chemicals are synthetic or not), and only uses the first distillation of oils instead of adding chemicals to get more out of the plant. Young Living also was the only company that was directly in charge of essential oil farming operations. Every other company I researched goes through some kind of an "oil broker" to buy their oils. They have to trust that the oil broker is telling the truth, who has to trust that the essential oil distilleries are telling the truth, who have to trust that the farmers are telling the truth about what they say they are doing. With Young Living, you just have to trust one company instead of several. I feel like it's a trust step either way (anyone could be lying) but I felt the most comfortable trusting Young Living since they are a full-disclosure company. ANYONE can visit the farms, participate in the harvesting and distillation, view the Young Living labs, and see the entire process. That's not an option with any other company.
HOW WILL I KNOW WHICH OILS TO USE FOR WHAT?
One of the benefits of getting a starter kit through this promotion is that you also get to join our private Facebook group that's specifically for questions about essential oils! The reference guide that I'm giving away as part of this promotion is also a HUGE resource. You can look up almost anything in it and see which essential oils and supplements can be helpful.
DOES YOUNG LIVING ONLY SELL ESSENTIAL OILS?
The answer to this one was surprising to me when I first got my starter kit! Young Living actually has an entire line of personal care products, supplements, meal replacements, energy drinks, and more! Almost every product incorporates essential oils (for example, frankincense is absolutely wonderful in facial products), but there's a wide variety of products available. Please let me know if you have any other questions and I will do my best to answer them!
DISCLAIMER: THESE STATEMENTS HAVE NOT BEEN EVALUATED BY THE FOOD AND DRUG ADMINISTRATION. THE INFORMATION ON THIS SITE IS NOT INTENDED OR IMPLIED TO BE A SUBSTITUTE FOR PROFESSIONAL MEDICAL ADVICE, DIAGNOSIS OR TREATMENT. PLEASE CONFIRM ANY INFORMATION OBTAINED FROM OR THROUGH THIS WEB SITE WITH OTHER SOURCES, AND REVIEW ALL INFORMATION REGARDING ANY MEDICAL CONDITION OR TREATMENT WITH YOUR PHYSICIAN. NEVER DISREGARD PROFESSIONAL MEDICAL ADVICE OR DELAY SEEKING MEDICAL TREATMENT BECAUSE OF SOMETHING YOU HAVE READ ON THIS WEBSITE. THIS INFORMATION IS NOT INTENDED TO DIAGNOSE, TREAT, OR CURE ANY DISEASE.

This post may contain affiliate links. Read my complete
Disclosure Policy Here