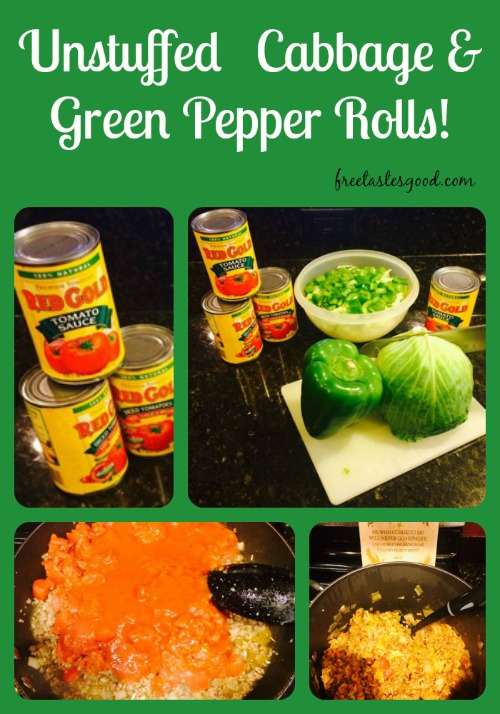 RECIPE FOR UNSTUFFED CABBAGE/GREEN PEPPER ROLLS!
If you are like our family, your evenings are packed with all kinds of activities and sporting events. Because of that, I have been dabbling with some quick recipes. I love to cook so it has been fun to try several different ones. This is one of my family's favorite also, even the kids love this. We loved pigs in the blanket so this is a much easier way to fix it and JUST AS GOOD:)
Here is the recipe:
Unstuffed Cabbage & Green Pepper Rolls
2014-12-29 07:30:20
Serves 12
Easy alternative to pigs in the blanket
Ingredients
2 pounds lean ground beef
1 ½ tablespoon oil
1 large onion, chopped
2 cloves garlic, minced
¾ small cabbage, chopped
2 Green Peppers, chopped
2 cans (14.5 ounces each) diced tomatoes
1 can (14.5 ounces) tomato sauce
1/2 cup water
Salt
Pepper
Instructions
In Separate pan make up 2 bags of Rice (i.e. Success Rice)
In a large skillet, heat olive oil over medium heat. Add the ground beef and onion and cook, stirring, until ground beef is no longer pink and onion is tender.
Add the garlic and continue cooking for 1-2 minutes.
Add the chopped cabbage, green peppers, tomatoes, tomato sauce, salt, and pepper. Bring to a boil. Cover and simmer for 30 minutes, or until cabbage is tender.
Now add the Rice and serve.
Free Tastes Good! https://www.freetastesgood.com/
Let us know what you think of this recipe!! Again, my family loves it!!

This post may contain affiliate links. Read my complete
Disclosure Policy Here