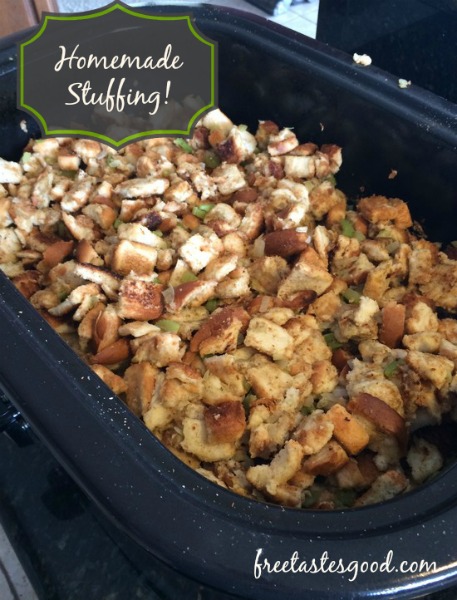 RECIPE FOR HOMEMADE STUFFING – THE BEST!!
This is our favorite recipe for homemade stuffing. We have tweaked it several times for our liking. We love the texture of celery so added more celery than onions. Some like onions, so using a large onion would be best if your family likes onions. We have used this recipe for about ten years now and it is my sister's favorite too 🙂
If making in the roaster, you will want to multiply the ingredients by 4!
Ingredients
30 slices white bread, lightly toasted
3 tablespoons butter
1 medium onion, finely chopped
6-8 stalks celery, finely chopped (we like celery and the texture)
2 eggs, lightly beaten
2 ¼ cups chicken broth
2 teaspoons rubbed sage
1 teaspoon garlic powder
salt and pepper to taste
Directions
Step 1
Allow the toasted bread to sit approximately 18 hr, until hard
Step 2
Preheat oven to 325 degrees F. Lightly grease a 9×13 inch baking dish or if you are serving many, use a roaster oven (I multiply the recipe x 4 for the roaster oven). This is our favorite way to cook it!
Step 3
Cut the bread up in cubes with a knife. Place the crumbs in a large bowl.
Step 4
Melt the butter in a medium saucepan over medium heat. Stir in the onion and celery and slowly cook until soft. Remove from heat and drain.
Step 5
Mix the eggs and chicken broth into the bread crumbs. The mixture should be moist (not mushy). Mix in the onion, celery, rubbed sage, garlic powder, salt and pepper.
Step 6
Bake 1 hour or until the top is brown and crisp or if using a roaster oven bake at 250 for approximately 2-3 hours
Let us know what your thoughts are on this recipe?

This post may contain affiliate links. Read my complete
Disclosure Policy Here