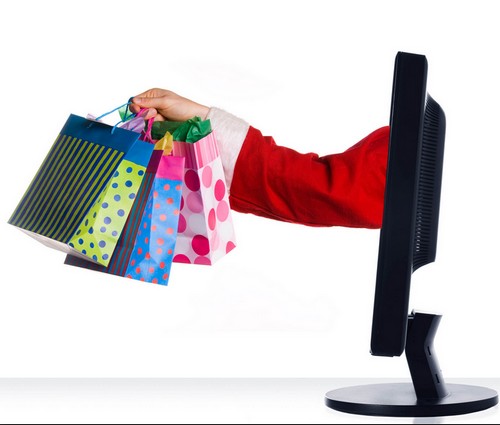 **AS FEATURED ON 101.5 W/MARYBETH AND RICK AND WTOL CHANNEL 11**
Ebates.com is my favorite site to use to earn cash back for online shopping. With Black Friday and CHRISTmas right around the corner, I highly recommend signing up. There are no gimmicks at all, it is 100% legit. You earn cash back for purchases that you are already going to make.
With Ebates, you can earn cash back at over 1,200 stores any time you shop online by following the below steps. There are no points to redeem, no forms to mail in, and no fees. Stores pay Ebates a sales commission for sending shoppers their way, and Ebates uses the commission to pay you cash back.
Here are the step-by-step instructions so you completely understand how to use Ebates.com. I explain Ebates.com like a mall. You first have to walk into the mall to get to the stores. Ebates.com is the same thing. (I am going to walk you through a shop at Kohls, but NOTE these are the steps you take for ALL STORES)
STEP 1 ~ Log in or Sign up for Ebates.com BY CLICKING HERE . (Must do this to get cash back!!)
STEP 2 ~ After you have signed up or logged in to your existing account, STAY ON THE EBATES SITE AND search the store you want to shop at (i.e. Kohls) from the "search bar" (pictured below) at the upper right-hand corner of Ebates Home Page.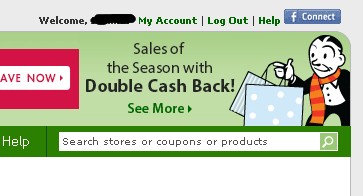 STEP 3 – You will now see the drop down box and you want to click on the Kohl's 6.0%.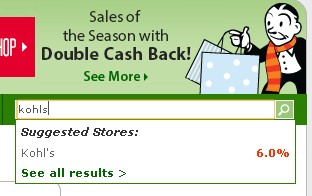 STEP 4 – Click on the red "SHOP NOW" BOX
STEP 5 – Once you click on that, you will see a box pop up, that is your tracking box letting you know Ebates is now tracking any purchases you make at that store.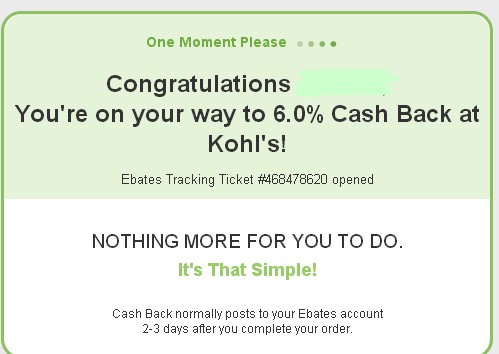 STEP 6 ~ It will then bring you to Kohls' official website or whatever store you have entered. Now you just shop like you normally would at that store and proceed to checkout. You have no worries, Ebates.com is tracking your purchase and they know your total amount purchased and will credit your account within 2-3 days. Plus right now, if you are a NEW member, you will receive a $10 gift card (Target, Walmart, Kohls, etc) after you make your first $25 purchase by SIGNING UP HERE. It can take up to four weeks, but usually much quicker, so that's like an extra 40% discount right away.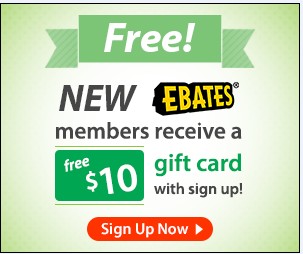 **CHANGING STORES**
Step 7 -If you decide to shop at another online store, you must return to step 1 (Ebates.com home page) and enter that store into the search box and then follow the remaining steps 2-6. . it's THAT EASY!!!
You will receive a check or paypal deposit every 3 months. It's like FREE money. If you are already going to shop online, why not use Ebates.com and earn a little extra cash?!?!
Plus with CHRISTmas around the corner they have many stores offering double cash back and these are good through the end of November.
Can't Miss Stores – Up to 30.0% Cash Back!
Shoes.com – 17.0% Cash Back
Under Armour – 12.0% Cash Back
Walmart – 5.0% Cash Back
Kohls – 6.0% Cash Back
eBags – 20.0% Cash Back
Overstock.com – 5.0% Cash Back
The Body Shop – 15.0% Cash Back
Lands End – Up To 8.0% Cash Back
Living Social – 4.0% Cash Back
Amazon – Up to 8.0% Cash Back
ShoeMall – 15.0% Cash Back
Home Depot – 6.0% Cash Back
Lancome – 12.0% Cash Back
Barnes and Noble – Up to 8.0% Cash Back; NOOK – 4.0% Cash Back
CheapTickets – Up to 13.75% Cash Back
Restaurant.com – Up to 30.0% Cash Back
Best Buy – 3.0% Cash Back
Staples – 4.0% Cash Back
QVC – 5.0% Cash Back
Aeropostale – 5.0% Cash Back
BlueFly – 7.0% Cash Back
Bare Necessities – 8.0% Cash Back
Eddie Bauer – 6.0% Cash Back
Elizabeth Arden – 9.0% Cash Back
Dooney and Burhe – 7.0% Cash Back
Jos.A.Bank – 8.0% Cash Back
Nine West – 7.0% Cash Back
You will notice I mention many deals and tell you to go through Ebates to earn cash back on your online purchases! It may only be 2%, but within a few months that adds up!! I used Ebates for all my online CHRISTmas shopping and each year I earn over $1000. Here is the proof. . .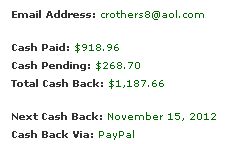 Actually, I earned $2506 in 2012, so FREE money so I had another DEBT-FREE CHRISTmas again!! It's that simple. Maybe you will only get $100 but that's $100 more than you have now and if you purchase via the internet you might as well get paid to shop!!
Here is one of my screens ~
If you notice, each store has a different cash back percentage. In this case, The Children's Place currently yields 3% cash back. It takes anywhere from 3-5 days to see your cash back deposited to your Ebates account after your purchases have been completed. Provided you have at least $5.01 in your account, Ebates sends you a check every quarter! If you do not, your balance just carries over to the next quarter.

This post may contain affiliate links. Read my complete
Disclosure Policy Here