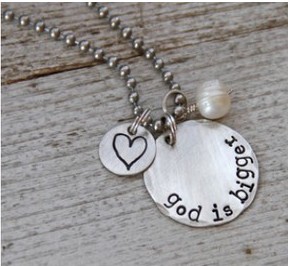 Last week I found a new site called The Rusted Chain and I fell in love with their jewelry.  It is such a great way to show others how Good God is and inspire others.  This and the Dream God-sized Dreams were my favorite, but honestly I like all of them.   This one I thought would be so awesome to do as a giveaway to remind us all that no matter what we are going through God is Bigger. . He is bigger than any problem we may face.  We just need to have faith and take it to him in prayer.
I want to give a special thank you To The Rusted Chain for doing this giveaway on our website.  This giveaway will run until Sunday, 1/19 at 9 p.m.  Once winner is confirmed, The Rusted Chain will send you the necklace.   All you have to do is comment on this blog post and tell us would you keep this necklace or give it away as a gift?  (all comments are moderated so just comment and I will approve)
Be sure to also check out the Rusted Chains FB page and thank them for this great giveaway!
Be sure to check out all of their jewelry.  Here are just a few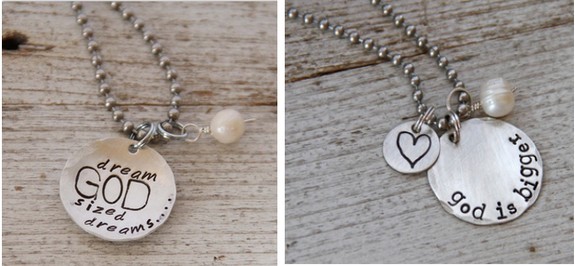 Order the The God is Bigger Necklace – $33
Order the DREAM GOD SIZED DREAMS NECKLACE – $28
There are so many more, be sure to CLICK HERE to check them all out:)

This post may contain affiliate links. Read my complete
Disclosure Policy Here