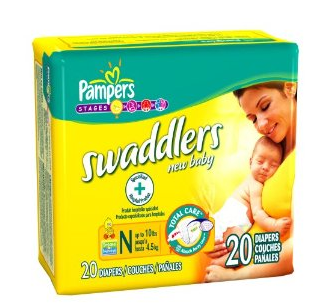 Smokin' Hot Deal on Pampers – If you are expecting or know anyone who is be sure to let them know about this Smokin' Hot offer!! This makes each diaper less than $0.16, which is awesome.  Pampers Swaddlers diapers have a longer absorbent area and a wetness indicator.
Get Pampers Swaddlers (Newborn) 240 count
for ONLY $39.24 SHIPPED!! That equates to $3.27 per package or $0.16/diaper – AWESOMENESS!! Please note prices can fluctuate significantly so be sure to SNAG this deal NOW!!
Product Features
• Umbilical cord notch
• Quilted backsheet
• Soft, stretchy Sides and extra padding
• Soft, overlapping fasteners
• Snug, comfortable fit

This post may contain affiliate links. Read my complete
Disclosure Policy Here