Is there anything more hearty and delicious than a baked potato with cheese and bacon? NOPE!! So we put it all in one dish, added chicken and some hot sauce and BAM!! The best dinner ever cooked in an aluminum tin. We just love this dish, it's easy to make and tastes so good. Guaranteed to become a favorite at your house as well.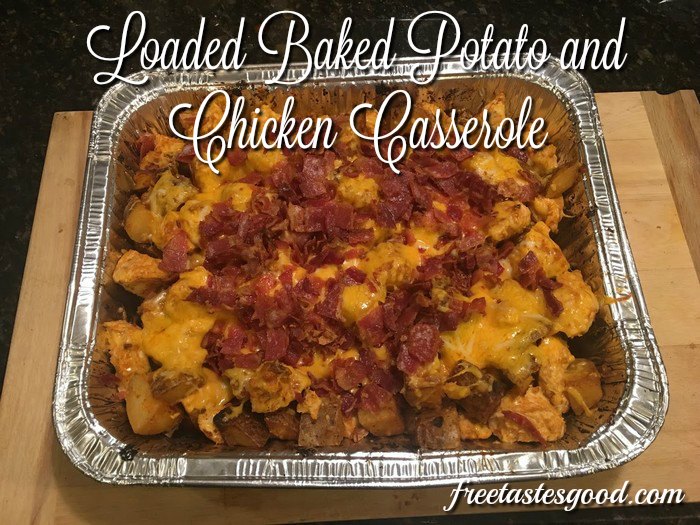 Loaded Baked Potato & Chicken Casserole
All you need is 8-10 potatoes, 2-3 chicken breasts, some bacon, and cheese. The rest should be in your cupboards already and this makes for one hearty dinner 🙂
In a large bowl combine hot sauce, olive oil, garlic powder, paprika, salt,and pepper whisking sauce till well blended. Slice your potatoes into cubes, add to the sauce, and stir to coat. Spray cooking spray to your tin or casserole dish and scoop potatoes in, then begin cooking.
You want to leave excess sauce in the bowl to coat the chicken chunks. set your timer for 15 mins. and begin cutting the chicken breasts into chunks and coat with remaining sauce. Cook the bacon and then chop into bits. Stir the potatoes every 15 mins. after 45 mins add the chicken to the top and bake an additional 15 mins. Stir the cooked chicken into the potatoes add cheese and bacon on top and return to the oven for 2-3 mins. Dinner is ready.
Serves 8-10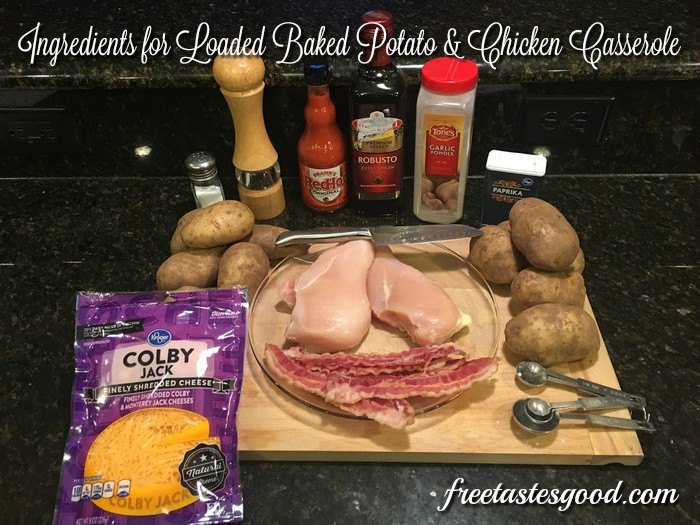 Ingredients
2 lbs chicken breast

8-10 potatoes

1/3 cup Olive Oil

1 1/2 tsp salt

1 Tablespoons fresh Ground Pepper

1 Tablespoons Paprika

2 Tablespoons Garlic Powder

6 Tablespoons Hot Sauce

2 cups Shredded Cheese

1 cup crumbled Bacon
Directions
Preheat oven 500F
In a large bowl mix Olive Oil, Salt, Pepper, Paprika, Garlic Powder, and hot sauce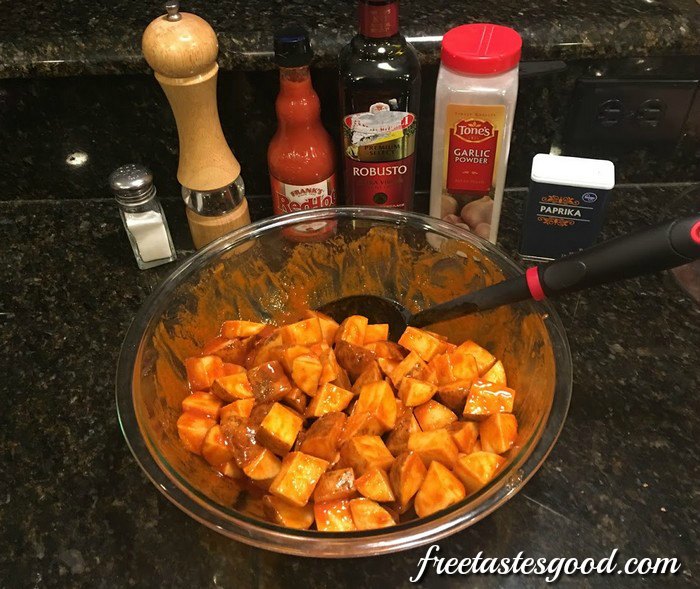 Cube the potatoes & add to the bowl
Coat a 9×13 dish with cooking spray
Add potatoes, allow for excess sauce in the bowl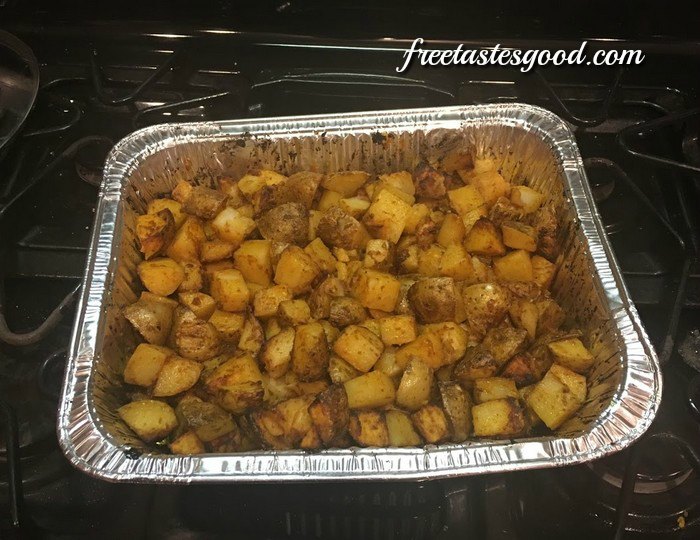 Bake the potatoes for 45 minutes, stirring every 15 minutes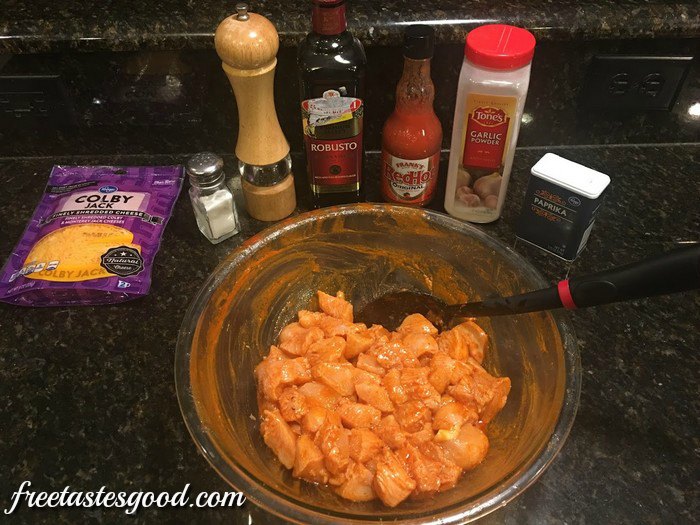 Cube the chicken & add it to the bowl with the left over sauce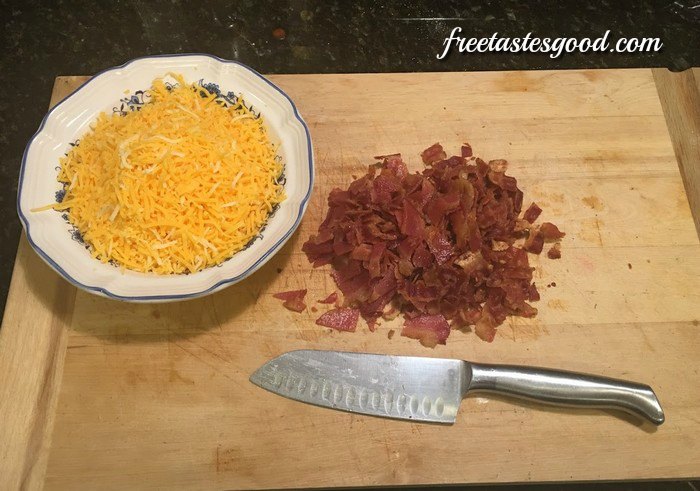 Cook bacon and cut into bits
Once potatoes are done, add the uncooked marinated chicken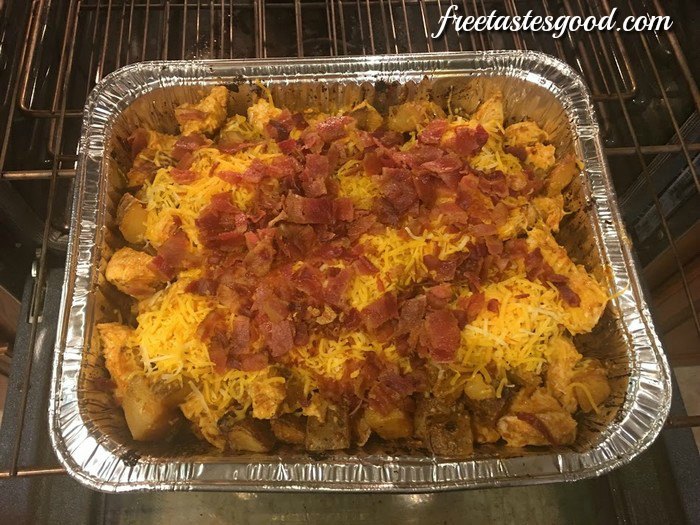 Bake for 15-20 minutes or until the chicken is cooked
Then stir chicken and potatoes and add cheese then bacon bits to the top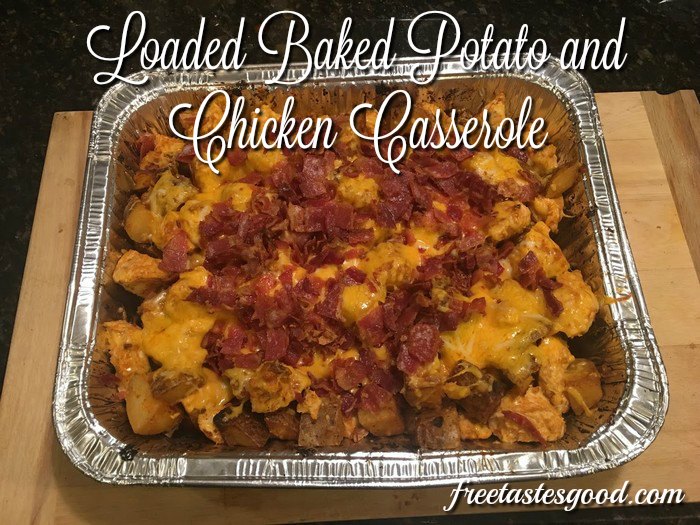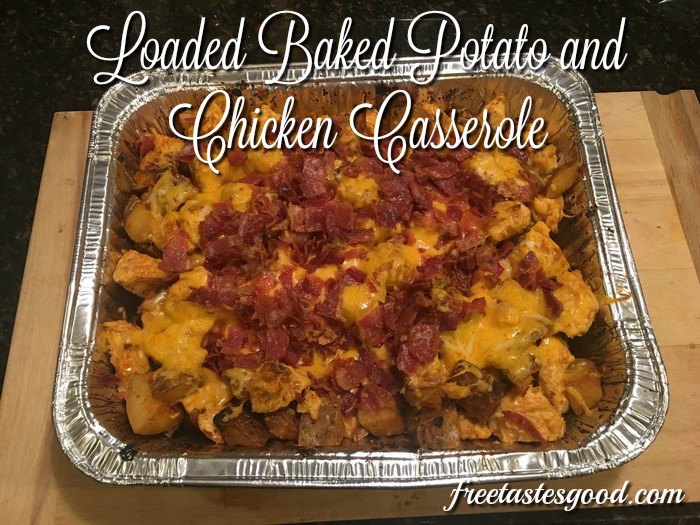 Loaded Baked Potato & Chicken Casserole
2017-03-08 10:56:03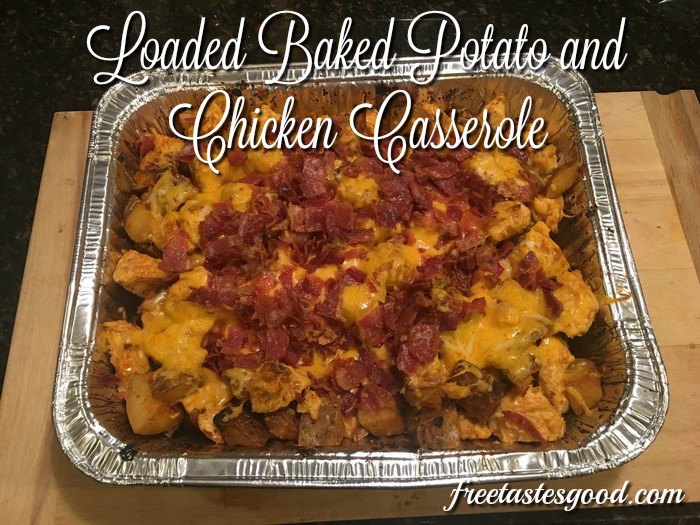 Serves 8
Ingredients
2 lbs chicken breast
8-10 potatoes
1/3 cup Olive Oil
1 1/2 tsp salt
1 Tablespoons fresh Ground Pepper
1 Tablespoons Paprika
2 Tablespoons Garlic Powder
6 Tablespoons Hot Sauce
2 cups Shredded Cheese
1 cup crumbled Bacon
Instructions
Preheat oven 500F
In a large bowl mix Olive Oil, Salt, Pepper, Paprika, Garlic Powder, and hot sauce
Cube the potatoes & add to the bowl
Coat a 9x13 dish with cooking spray
Add potatoes, allow for excess sauce in the bowl
Bake the potatoes for 45 minutes, stirring every 15 minutes
Cube the chicken & add it to the bowl with the left over sauce
Cook bacon and cut into bits
Once potatoes are done, add the uncooked marinated chicken
Bake for 15-20 minutes or until the chicken is cooked
Then stir chicken and potatoes and add cheese then bacon bits to the top
Free Tastes Good! https://www.freetastesgood.com/

This post may contain affiliate links. Read my complete
Disclosure Policy Here