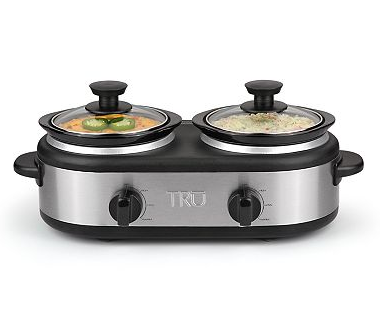 Kohl's is having an amazing sale on their TRU Twin Dipper Slow Cooker. I have one and LOVE it!! Plus you can get an extra 20% off, but if you go through Ebates you can get an additional 3% cash back to sweeten the offer!!
PRODUCT DESCRIPTION:
Make your cooking experience a breeze with this TRU slowcooker. This twin dipper slowcooker lets you spend more time socializing and less time in the kitchen. Enjoy entertaining with this slowcooker by TRU.
Removable 1 1/4-qt. stoneware pots provide ample room for two entrees or sides.
Variable temperature control offers low, high and warm settings.
Nonskid rubber feet keep the slowcooker safely in place.
Details:
Stoneware pots: hand wash
Appliance: wipe clean
Model no. BS-215
If you are new to Ebates.com you can get a $10 Gift Card after your first $25 order. . so actually it is like only paying $15 for a $25 Offer!! This is an AWESOME time to sign up for Ebates!! check out here all the details!!
Here's how to snag the deal. . .
• Login or Register with Ebates to earn 3% cash back!
• Search "Kohl's"
• Click on "Shop Now" to be redirected to the website
• Search for "TRU Twin Dipper Slow Cooker". Add to your cart and at checkout make sure to enter promo code "ZP2YC8F" to get an extra 20% off, shipping is $5.95 or FREE for orders over $50 + 3% cash back from Ebates
• Within 2-3 days your 3% cash back will be added to your account (it usually only takes 2-3 days)!
If you are new to Ebates.com you will earn $10 Gift Card after your first $25 purchase – AWESOME DEAL!! Your cash back will be credited to your account within 2-4 days. This is a pretty great deal!!
FINE PRINT:
Ebates pays its members accrued Cash Back and other rewards every 3 months, at a minimum. Ebates pays members in U.S. dollars via check, Paypal, and sometimes other payment options. Members may select or change their payment options in the My Ebates section of Ebates.com. Each payment represents Cash Back and other rewards earned and accrued during the prior quarter based on the schedule below. The minimum payment amount is $5.01. Balances below $5.01 remain in your account for potential payment during the next payment period.

This post may contain affiliate links. Read my complete
Disclosure Policy Here