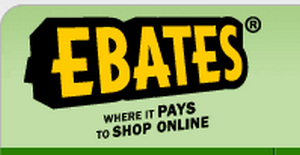 **With CHRISTmas 5 months away now is the time to sign up and start earning CA$H**
Many of you hear me talk about Ebates.com! It is my FAVORITE online shopping site, because I earn cash back when I use it. You will notice I mention many deals and tell you to go through Ebates to earn cash back on your online purchases! It may only be 2%, but within a few months that adds up!! I used Ebates for all my online CHRISTmas shopping and I am getting a BIG FAT check of over $400!! It truly is that simple!!
With Ebates you can earn cash back at any of over 1,200 stores any time you start your shopping trip at Ebates. There are no points to redeem, no forms to mail in, and no fees. Stores pay Ebates a sales commission for sending shoppers their way, and Ebates uses the commission to pay you cash back. Look at what I am getting back!! It is sooooo AWESOME!!
Here is one of my screens ~

They have a deal going on now for every 3 friends you refer to them you earn $30**
Here's a brief walk-through that will hopefully give you a better understanding as to how this site works:
* First of all, you'll need to Register with Ebates and create an account. (It's completely FREE!)
* Everytime you shop online, you'll want to first login to your Ebates account so you get credit!
* Search for the online store you are shopping with. For example, if you want to shop at TheChildrensPlace.com, you will first go to Ebates, then search "The Children's Place". Your search results are shown below.
* Click "Shop Now" and a tracking ticket will be created. You will then be linked to TheChildrensPlace.com where you just shop as you normally would. You can even use coupon codes. The only difference is Ebates is tracking your purchases so you can earn cash back.
If you notice, each store has a different cash back percentage. In this case, The Children's Place currently yields 3% cash back. It takes anywhere from 3-5 days to see your cash back deposited to your Ebates account after your purchases have been completed.
I also love Amazon.com and do a lot of shopping there so I am super excited to tell you that Ebates now gives 3% cashback for all Amazon purchases ~ HOLLA!!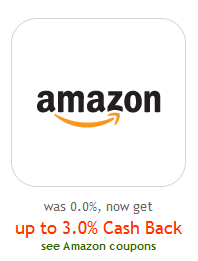 Provided you have at least $5.01 in your account, Ebates sends you a check every quarter! If you do not, your balance just carries over to the next quarter.
**Here's the breakdown –
**Earn cash back for online purchases you were already going to make? It's FREE to join Ebates again another great way to get FREE MONEY!!
** Here are the stipulations to it – * A qualified referral is a new user to Ebates referred by you who makes a purchase of $25 or more earning cash back. No self-referral allowed and returned purchases do not qualify. Posting messages or links on any Ebates partner stores' Facebook pages or forum pages using your referral links is not allowed and will result in disqualification from the referral bonus program. Keyword bidding for search marketing campaigns is not allowed. Only one bonus level per person awarded. You will receive the highest bonus level for which you qualify. To qualify for the bonus, the new member you refer via your custom referral link, the invitation forms on this page or other methods supplied by Ebates that allow for proper tracking of referrals, and must make a qualifying purchase of $25+ between 1/1/12 and 3/31/12. Ebates decisions are final. You are responsible for any taxes, as applicable by law. Referral Bonus Promotion is open only to individuals who are legal residents of the fifty (50) United States, the District of Columbia or Puerto Rico and are eighteen (18) years of age. You will be contacted within 14 days of the end of this promotion with notification on your bonus and cash bonuses will be added to your Ebates account.
[googlead]


This post may contain affiliate links. Read my complete
Disclosure Policy Here